We want you to be able to take advantage of spending more time at home and trying things you might not have had the time to do before. This is a great chance to examine each room and consider the aspects you don't love, or you'd like to change! But before you start thinking of knocking walls or hiring professionals when lockdown is over, there's a far simpler way to change how you feel about any room in your home - Feng Shui.
Feng Shui is an ancient Chinese practice designed to harmonise people with their surroundings, creating 'good energy' to help the mind and body—perfect for the current circumstances we've all found ourselves in.
So, where do you begin? Here's six tips for bringing peace and harmony to your home.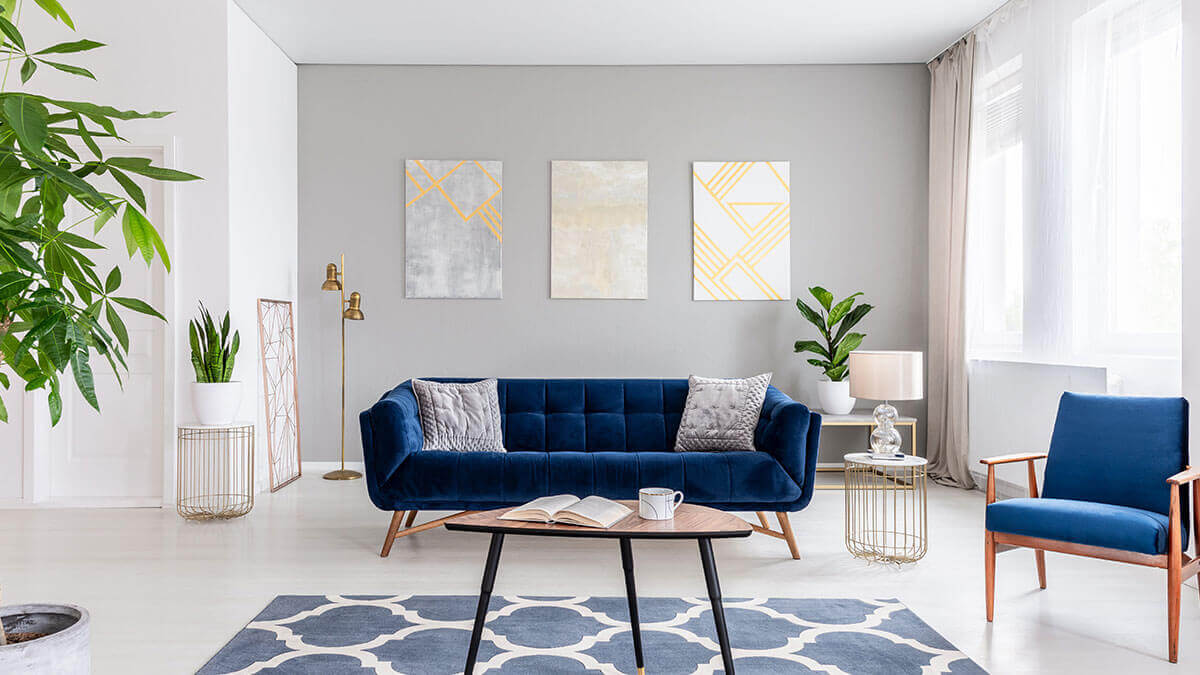 Let there be light
Natural light is valued for a reason; from our energy and mood to the appearance of our spaces, there truly is no substitute. That's why letting as much light as possible into our homes is a must—and that means getting to work on your windows.
There's no shortage of all-natural cleaning products you can use at home, but when it comes to windows the bottom line is; clean, clear sunlight rushing through the glass is good for mind, body and soul. Our DIY experts share six more clever ways to maximise natural light in your home.
The same ideas apply when the sun goes down, too. In darker rooms, especially if the walls are painted a dark shade, you could consider upping the wattage of your light bulbs to eliminate any dark corners.
Clear the way
According to feng shui, energy needs to move throughout the home, so it's important that your doorways are fit for purpose. That means squeaky hinges are a no-no—use WD 40 to make sure there are no undesirable noises every time your doors are used. If you can't get your hands on WD 40 at the moment, any cooking spray, or a mixture of cooking oil and water shaken in a bottle, will do the trick.
It's also important that all of your doors can open at least 90 degrees. This is to ensure your life can let all possible opportunities in. Make sure you don't have clutter, a table, or lamp stored behind a door that stops it from opening fully.
Get in position
At the mention of Feng Shui, most people think of elaborate furniture rearrangements—all it really means is making sure some key items are well positioned, because it is representative of having things in good order in your life.
Your bed, desk and stove symbolise you, your career, and your wealth, so start with these. Standing at each, you should be able to see the door to the room, without being directly in line with it. It's referred to as a 'commanding position', where you're ready to accept the energies and opportunities life has to offer.
Green is good
You probably don't need to be told that plants bring vibrancy and colour to a room; and in Feng Shui, they represent life energy. Connecting us with nature, they're a great way of introducing positive, organic forces to your home. Not to mention they add beauty to any room!
Just like your home, plants will require light, so make sure you choose types suitable for your environment. Just be sure you don't go overboard, you'll see next why it's important to keep from cramming your rooms with items.
Say goodbye
Whether it's the influence of Instagram or the Marie Kondo factor, decluttering is now a popular activity in itself. In Feng Shui, it's not just about letting go of belongings, but also about creating space to create a sense of calm.
If you don't know where to begin, then start small. Pick a shelf, a desk, or even a kitchen cupboard, and get to work. Getting rid of unnecessary items opens space for new opportunities.
We've got all the tips you could ever want to declutter your home.
Don't flush it away!
After all that effort, it would be a shame to throw all your good work down the toilet! Always keep the lids of your toilets down, and the bathroom doors closed. You want to allow energy to flow freely through your house, but the bathroom is an exception to the energy rule!
You create the harmony in your home, and we'll help protect it. Buy your home insurance online and get 15% off.1 Get your quote today.
We encourage our customers, where possible, to make use of our online options to access any help you need. Home insurance, car insurance and travel insurance can all be purchased online. MyAviva is an online self-service portal available to all our existing home and car insurance customers. If you have a query you can reach us via our contact forms here.