No one ever wants to think about being in a situation where their car might be written-off. From an insurer's perspective, a write off means it is uneconomical to repair. Knowing what you need to do after the event can help to alleviate stress and provide clarity in what can be a time of uncertainty.
With that in mind, we've broken down the process so read on and you'll know what you need to do after an accident has occurred and how we can help get you back on the road.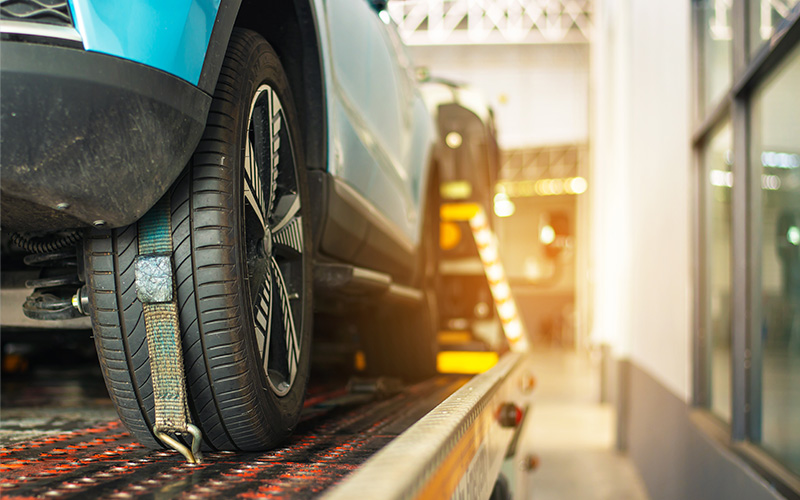 What you should do next
If you have been in a car accident, the first thing to do is to check yourself and other passengers for injuries. Once you know everyone is safe, you'll need to swap contact and insurance details with those involved in the collision. It's important that the next step you take is to call Aviva Claims on 1800 147 147.
On the roadside ensure not to admit, deny, negotiate or agree to settle a claim, leave that up to Aviva and our claims experts, as this is what they do.   
Aviva will ask you some questions, including if there was another vehicle involved and if any injuries occurred. They will then ask you if the car is mobile and for details such as your car registration number and the registrations of the other cars involved, if applicable.
At Aviva, we understand that this is a tricky time, and so this is where we step in to take care of some of those difficult tasks, such as repairing your car using Aviva Motor Services, which is our nationwide repairer network of garages. If the car is immobile, we can arrange collection and delivery of your car to a garage within our network of repairers. If it's mobile but not convenient for you to bring your car to a repairer, we can arrange for it to be brought to an Aviva Motor Services garage on your behalf. Once at the garage, your car will be assessed.
Evaluation
At the Aviva Motor Services garages, the damage will be assessed by a professional who will produce a computerised estimate for the cost of repair, which provides a detailed list of all the required parts, labour and paint costs. If the car is repairable, we will act as quickly as possible to get your car repaired and back to you.
However, if your car is determined to be a write off, Aviva will determine the pre-accident market value of your car, which will then be discussed with you. Once the pre-accident value has been agreed, Aviva will issue you with a formal claim settlement offer and ask you to either drop the vehicle registration certificate and any spare keys you have into the Aviva Motor Services garage. Alternatively, we may ask you to email photographs of both sides of the vehicle registration certificate and post the originals to the garage. As soon as the garage has confirmed they have received the above, Aviva will issue payment by bank transfer along with an email stating that your claim has been settled.
New for old
If you own a new car that is less than 12 months old with no previous owners, it's worth noting that there maybe a few other options available to you. If your new car is a write-off or your repairs exceed 50% of the cost of a new car, Aviva will offer to purchase a like for like new replacement car on your behalf if a new car is available in the Republic of Ireland. You must insure the car for its full replacement cost for at least 12 months after you first register it.
Salvage
Sometimes when a car is written-off, it still has a value, so Aviva in some instances can take ownership of the salvage. The written-off car is then auctioned off to a panel of salvage buyers with the car going to the highest bidder. Any money received for the salvage will be offset against the value of the claim.
Minor incidents on our roads are a regular occurrence – but that doesn't mean they're not a big deal. Now that you know what happens when your car is written-off, take a look at a guide on what to do after a minor car accident so you're always prepared on the road.
With Aviva car insurance, if you make a claim under your policy after an accident, you will receive a courtesy car for up to seven days while your car is being fixed by an Aviva Motor Services repairer or 10 days in the event that your car is deemed to be a write off.
At Aviva, we understand a car is more than just a means to get from A to B, that's why we're dedicated to making the process of when your car is written-off as quick and hassle-free as possible. 
We encourage our customers, where possible, to make use of our online options to access any help you need. If you have a query you can reach us via our claims contact form.
If you buy your car insurance online, you'll get a 15% discount. Get your quote today.1
For car insurance, it takes Aviva.