All aspects of our lives have been affected by Covid-19. Aside from having to keep at least two metres between ourselves and others we meet in public, all non-essential travel is restricted.
For all of us that drive there'll be limited scenic drives around Ireland's beautiful countryside or visits to see family for the moment.
So, what kind of driving is allowed under the government Covid-19 regulations and what does it mean for you? We've got the answers below.
Please note all information we provide is in line with the recommendations made by the HSE and the Irish government, at the time of publishing.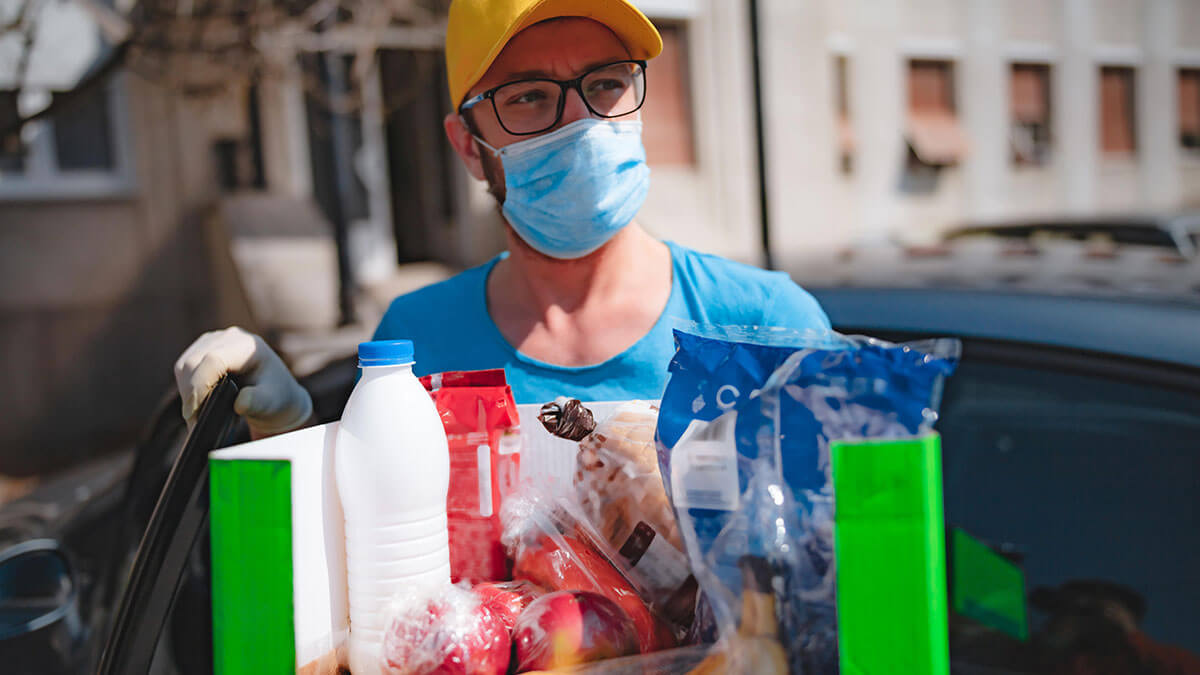 Essential travel
The government says we can only leave our homes and move about for 'essential travel'. Essential travel includes;
Going to a shop for food and household goods
Attending medical appointments
Collecting medicine or other health products
Caring for children, older people or other vulnerable people
Exercising outdoors (within five kilometres of your home and only with people from your own household)
Travelling to work if you provide an essential service.
Proof of employment
If your job falls under the list of essential services, you might need to drive to and from work each day. If this is the case, make sure to carry proof of your employment, this can be a letter from your employer indicating that you are an essential employee. This way, if you're stopped at a Garda checkpoint, you'll be waved through.
Driving for volunteer work
Lots of people have decided to volunteer their time to help their communities in some way during the Covid-19 outbreak. The government allows you to leave your home for volunteering and using your car for such tasks like delivering food or medicine to vulnerable people in your community or bringing them to hospital appointments.
In terms of your car insurance, if you're doing this kind of volunteering and not being paid for it, then you're covered as normal with Aviva. You don't need to tell us or make any updates to your policy.
However, if you're receiving payment for your services, this isn't covered in our standard private car policy so you'll have to contact us so we can update your insurance policy.
NCT and licence renewal 
If your car's due an NCT test, or you need to renew your license, don't worry we'll still insure you if;
Your car has an NCT test that is/was due on or after 28 March 2020 - that test date is extended by 4 months.1
Your driving license is/was due to expire between 1st March 2020 and 30th June 2020 inclusive, your expiry date is extended by 4 months. This is the same if you have a Learner Permit.2
Driving to the park
We're all allowed leave our homes to get exercise each day, once it's within five kilometres from our homes. If you're physically able, you should try and avoid driving to areas like parks to exercise and walk or cycle there instead.
Driving to see family
The government says we can't make any 'social' visits to family. This means we can only visit family members if we're providing vital care for them, or dropping off shopping, especially if they're cocooning. Cocooning is a measure put in place for those over the age of 70, and anyone who is considered to be medically vulnerable, as they have a much higher  risk of getting severely ill from Covid-19 if they contract it.
Driving with others in the car
You should try to make grocery trips on your own if it's possible. Of course, this might not be possible for many so, if you have a young child or relative in your home that needs to be looked after you can bring them with you.
Hygiene when driving during the outbreak
After driving your car, make sure to sanitise your car door handles, steering wheel, gear stick, handbrake and all other parts of your car that you touch with your hands. When you're using a petrol or diesel pump apply the same health and safety rules as you do for all other activities. Use gloves when using the pumps and immediately throw them away (they're provided at most garages now), stay at least two metres from anyone else in the area, do not touch your face after using the pump, and wash or sanitise your hands as soon as you can after use.
Car battery health
You might be worried about your car battery's maintenance at the moment. If you're using your car for any 'essential service' work, then you don't need to worry about the battery. Driving for just 15 minutes once a week will suffice.
Starting your car and allowing it to sit idling is bad for your engine, it wastes fuel and causes environmental damage.  In addition, it will drain your car's battery, as idling doesn't allow your battery to charge but strains it. To reduce the chances of your battery failing, especially if you don't drive very often, Aviva's car underwriting manager, Michael Bannon, would recommend you consider using a 'trickle' charger or battery conditioner. This is the most effective way to keep your battery healthy for long periods with little or no use. It will also keep immobilisers and other energy-sapping components from draining your battery completely.
If you can't use a trickle charger the best advice is to rely on your essential journeys to keep your battery healthy. Simply starting your car occasionally and leaving it running for only a few minutes is unlikely to help, in fact this may end up draining a weak battery altogether. Driving your car for 15-20 minutes would, in most cases, be sufficient to top up the battery charge. If you've two cars at home, you may want to consider alternating your essential trips between them.
If you want more information have a read of our car's battery health tips.
While you take care of the big things in life, we'll take care of your car. Buy car insurance online, and get 15% off.3 Get your quote today.