Whether it's a local staycation or a drive across Europe, embarking on long car journeys with children can make for a stressful time – especially when you've got the kids in tow. If the words "Are we there yet?" are enough to send shivers down your spine, then we're hopeful we've got some ways to help; top tips and easy ideas for driving with kids.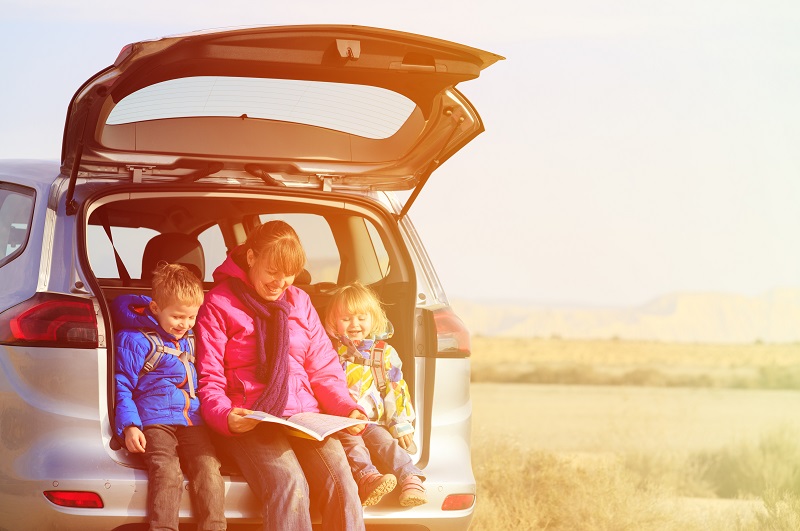 Plan ahead
It's always best to plan your road trip with kids well in advance. Google Maps can't always be relied on for exact travel times, so be realistic when planning your journey; unexpected traffic or unanticipated car problems can throw a spanner in the works, so always allocate more time than you'll need.
Time your trip
If your little ones are used to spending their afternoons running around, the shock of a lengthy journey will be all the greater.
If you're up to it, try driving a decent portion of your trip at night, or at other times when they're less likely to get restless. Modelling your travel schedule after a regular school day, complete with breaks and lunchtime, is another clever idea to consider.
Take regular breaks
Break up the monotonous hours in long car journeys with children by taking regular breaks. Service stations can provide an essential toilet stop, fuel pump and bite to eat within easy distance of the main roads.
If you're looking for something a little different, take a glance at a map and see what landscapes and amenities are on your route. You could find the perfect picnic stop or a spot to stretch the legs at the next turn. If you're driving an electric car, the ESB have provided information on various charging points across the country.
Get your entertainment sorted
When you're on the road driving with kids, be creative with how you occupy the little ones in the back. If some friendly family competition is your idea of a good time, you'll find loads of fun quizzes online. Or battle it out against some of Ireland's finest with our Six Nations emoji quiz with Irish Rugby. A tablet is also a child favourite, and can be loaded with movies, games and music.
An exciting novel is also a great way to keep entertainment levels high – but be aware that reading in a moving vehicle can cause car sickness in some children. If that's a concern, alleviate the problem by opting for a podcast or audio book instead.
For the toddlers, colouring books and drawing boards are simple options to engross them with creativity. And resist the temptation to blare your Road Trip Classics playlist the whole way; soothing music creates an atmosphere of oasis to calm any young child.
Make it comfortable
Blankets, travel pillows and comfortable clothing are easy ways to make long car journeys with children a little bit more relaxing for them; if you're lucky, journey time will become nap time!
Be sure to have a water bottle and healthy snacks to hand too in case the hunger pangs take over.
Don't fret, because we've gathered even more top road-trip essentials so you don't forget any of the other necessities!
Put safety first
It's always important to put car safety first when you're preparing for any long journey. Fill up before you set off and check your lights, wipers, tyre tread, tyre pressure and fluid levels.
It's also no surprise that those driving should get plenty of sleep the night before you set off. Driver fatigue can be detrimental, so we've put together further tips for fighting driver fatigue.
Stay calm
Last but by no means least, stay calm. By remaining optimistic, you'll keep excitement levels high and ensure a positive and happy car environment.
Talk about your holiday and what's coming up to keep everyone looking forward to your post drive plans. You might be surprised to see how the time flies when you're engaged in lively conversation!
While they aren't a match made in heaven, who doesn't fondly remember Irish road trips with kids?
Remember, with Aviva car insurance, breakdown assistance is included as standard. Call 1800 44 88 88, we're here 24 hours a day, 365 days a year if your car breaks down. 
At Aviva, you'll also save 15% on your car insurance when you buy online¹. Get your quote today.