The sun has begun to shine through the clouds, which means that it's time to crack out the barbecue! Barbecuing is one summer tradition that the we Irish hold dearly, even the almost guaranteed chance of rain can't dampen our spirits!
Take a look below as we reveal our favourite sizzling recipes that are sure to impress this summer from our friends over at Easy Food!
BEST BURGERS
Serves 8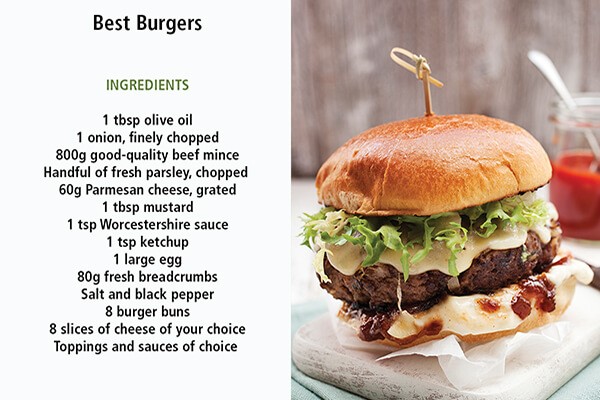 Method:
Heat the olive oil in a pan over a medium heat and cook the onion for 5-6 minutes, stirring occasionally, until soft but not coloured. Transfer to a large mixing bowl and allow to cool completely.
When cool, add the mince, parsley, Parmesan, mustard, Worcestershire sauce, ketchup, egg and breadcrumbs and season generously with salt and pepper.
Mix everything together thoroughly using clean hands.
Turn the mixture out onto a clean work surface and divide into eight equal pieces. Shape each one into a fat burger around 8cm wide and 3cm thick. Use your thumb to press an indentation into the centre of each patty.
Transfer the burgers to a tray, cover with cling film and place in the fridge to chill for one hour. Remove and allow to sit at room temperature for 20 minutes.
Cook the burgers on the barbecue over a high heat for two minutes on each side, then move them to a lower-heat area of the grill and cook for another five minutes on each side.
In the last minute of cooking, place a slice of cheese on top of each burger and lightly toast the buns. Serve with your preferred toppings.
Per serving: 446kcals, 14.6g fat (5.2g saturated), 31.2g carbs, 4.8g sugars, 45.2g protein, 1g fibre, 0.643g sodium.
BARBECUED SALMON FILLETS WITH DILL BUTTER
Serves 4
Method:
In a small bowl, blend the butter with the dill and season with salt and pepper.
Remove the salmon from the refrigerator and season. Let it sit at room temperature for 20 minutes.
Pour a little vegetable oil onto a sheet of kitchen paper, and use tongs to wipe the barbecue grates with it. Rub the salmon with the two tablespoons of oil and place, skin side up, onto the barbecue. Cook, undisturbed, over a high heat for 3-4 minutes, depending on thickness.
Carefully turn the salmon with a spatula. If using a gas grill, reduce the heat to medium. If using a charcoal grill, move the salmon to the cooler side of the grill. Cover and cook for another 4-5 minutes until just cooked through.
Top the salmon pieces with the dill butter and serve with lemon wedges.
Per serving: 406kcals, 30g fat (10.6g saturated), 0.6g carbs, 0g sugars, 34.8g protein, 0g fibre, 0.205g sodium.
SIMPLE VEGGIE SKEWERS
Serves 4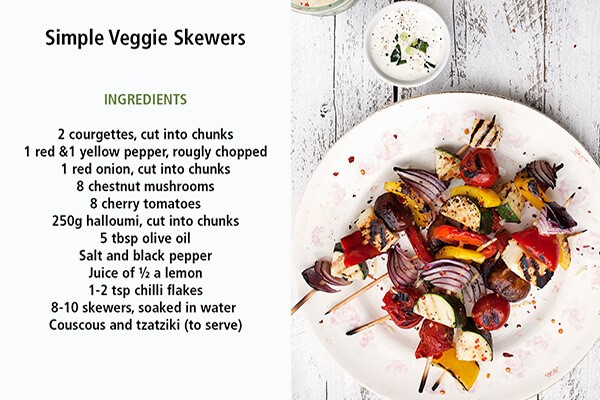 Method:
Place all of the vegetables and halloumi in a large bowl and drizzle with the olive oil. Season generously with salt and pepper, squeeze in the lemon juice and sprinkle with the chilli flakes. Toss to coat and cover the bowl with cling film. Place in the fridge for at least three hours, or overnight if possible, stirring occasionally.
Remove the vegetables from the fridge and thread, alternating, onto skewers.
Cook on the barbecue over a high heat for 2-3 minutes per side until lightly charred.
Serve with couscous and tzatziki.
Per serving: 458kcals, 34.4g fat (13.9g saturated), 25.1g carbs, 9.7g sugars, 18.8g protein, 6.4g fibre, 0.693g sodium.
General Fire Safety Tips
We all want our barbeques to be as fun as possible, but it's important to remember some general fire safety habits too, which you can you to keep your family, guests and home protected. 
Never leave any fire or flame unattended.
Use a fire guard, where appropriate.
Don't store wood next to your fire or stove.
Never burn household waste.
Make sure to have smoke and carbon monoxide alarms and carry out regular checks.
Now that you're prepared to throw your barbecue party, you'll want to make sure your garden is protected. We offer Garden Cover, for items that are permanently left out in the open, as an optional cover that you can add to your Aviva home insurance policy.