The kids are finally getting back to school this month, and while the landscape of back to school season will be different in many ways this year, one thing won't change – the task of trying to come up with snacks and lunches to keep our kids interested and well nourished five days a week!
We've enlisted the help of food experts Easy Food for four healthy school lunch ideas that you can add to your rotation to keep the little ones full of energy and satisfied until home time!
We've got two mains and two snacks that are quick, easy, and will fit perfectly into a school lunch box.
Easy cheesy toaster pitta pizzas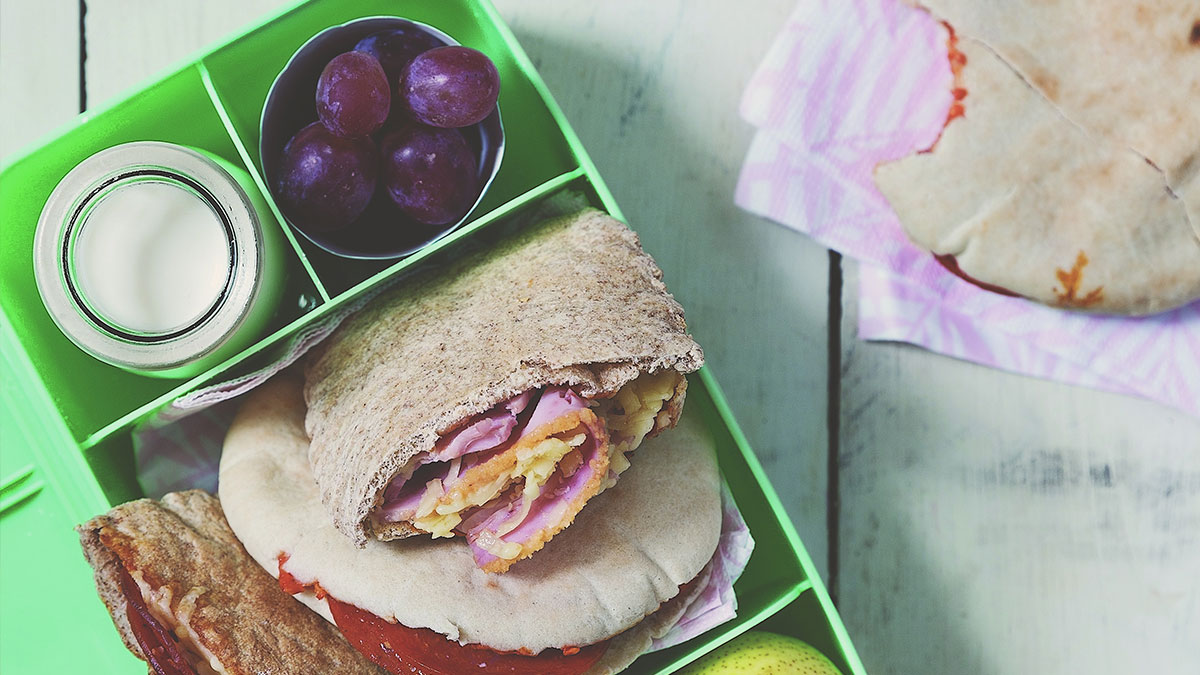 Makes 2 servings
1 small pitta bread, white or wholemeal
1 tbsp tomato purée
1 tbsp cream cheese
1½ tbsp cheddar or mozzarella, grated
Ham, pepperoni or any other favourite pizza toppings
Lightly wet the outsides of your pitta bread and, place in the toaster for 45-60 seconds until puffed up but not crispy.
In a small bowl, combine the tomato purée with the cream cheese and grated cheese.
Carefully slice an opening at one side of the pitta.
Use a teaspoon to push the tomato and cheese mixture inside and add any other fillings you like. Gently squash the pitta bread until it is closed.
Put the pitta back in the toaster, cut side-up. Toast for two minutes, or until the pitta is crisp and the cheese has melted.
Per Serving: 242kcals, 9.7g fat (5.3g saturated), 25.9g carbs, 3g sugars, 11.7g protein, 3.9g fibre, 0.985g sodium
Veggie-packed frittata slice
Makes 8 servings
2 large handfuls of baby spinach
3 tbsp olive oil
1 large onion, finely chopped
2 carrots, grated
1 courgette, grated
120g low fat cheddar, grated
9 eggs, beaten
Salt and black pepper
Preheat the oven to 180˚C/160˚C fan/gas mark 4. Line a rectangular baking dish with parchment paper, we used a 14x26cm backing dish.
Heat one tablespoon of olive oil in a large pan and wilt the spinach. Transfer the spinach to a bowl and set it aside to cool.
Add another tablespoon of olive oil to the same pan and cook the onion for 5-6 minutes until soft and translucent. Add the grated carrot and cook for 3-4 minutes until soft. Set aside.
Squeeze the excess water from the grated courgette and the wilted spinach. Chop the spinach finely.
In a large bowl, combine the onion mixture with the courgette, spinach, and cheese and season. Place this mixture into the baking tray in an even layer. Pour over the beaten eggs.
Bake for around 40 minutes or until golden and set all the way through.
Allow to cool in the tin before turning out and slicing into eight rectangles.
Keep the leftover frittatas for up to four days in the fridge in an airtight container.
Per serving: 140kcals, 9.7g fat (2.4g saturated), 5.2g carbs, 2.4g sugars, 8.9g protein, 1.4g fibre, 0.183g sodium
Healthier chocolate chip cookies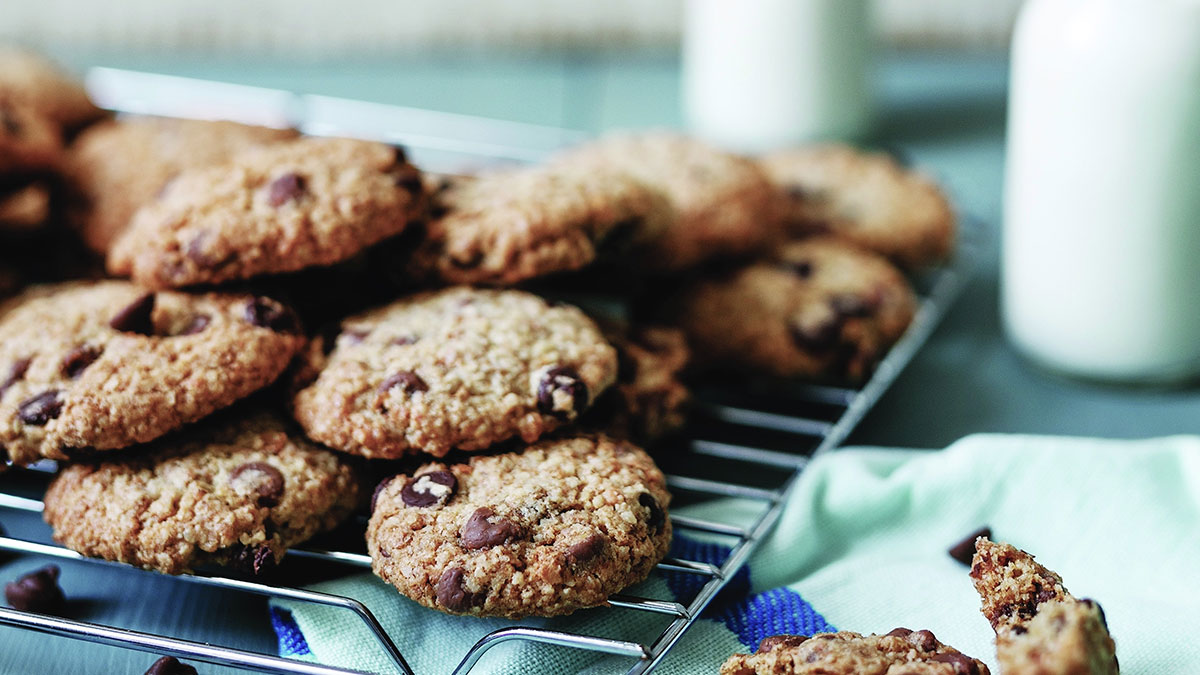 Makes 12 cookies 
160g oats
120g wholemeal flour
½ tsp bicarbonate of soda
¼ tsp salt
60g butter, at room temperature
60ml vegetable oil
60g caster sugar
60g brown sugar
1 egg
1 tsp vanilla extract
250g dark chocolate chips
Preheat the oven to 180˚C/160˚C fan/gas mark 4.
Add the oats to a food processor and blitz until finely ground. Add to a medium bowl with the flour, bicarbonate of soda and salt.
Beat the butter, oil and sugars in a large mixing bowl until light and fluffy. Add the egg and vanilla and beat again.
Gradually beat in the dry ingredients until everything is lightly mixed but it's not completely smooth. Stir in the chocolate chips.
Drop the dough by heaped teaspoonfuls, spaced well apart, onto two baking trays.
Bake the trays for 11-15 minutes, rotating the trays halfway through, until the cookies are golden brown and firm around the edges.
Leave to cool for a few minutes on the baking trays, then transfer to wire racks to cool completely.
Keep the leftover cookies for up to four days in the fridge in an airtight container.
Per Serving: 299kcals, 15.7g fat (7.2g saturated), 39g carbs, 21.2g sugars, 4.9g protein, 4.9g fibre, 0.139g sodium
Better-for-you banana buns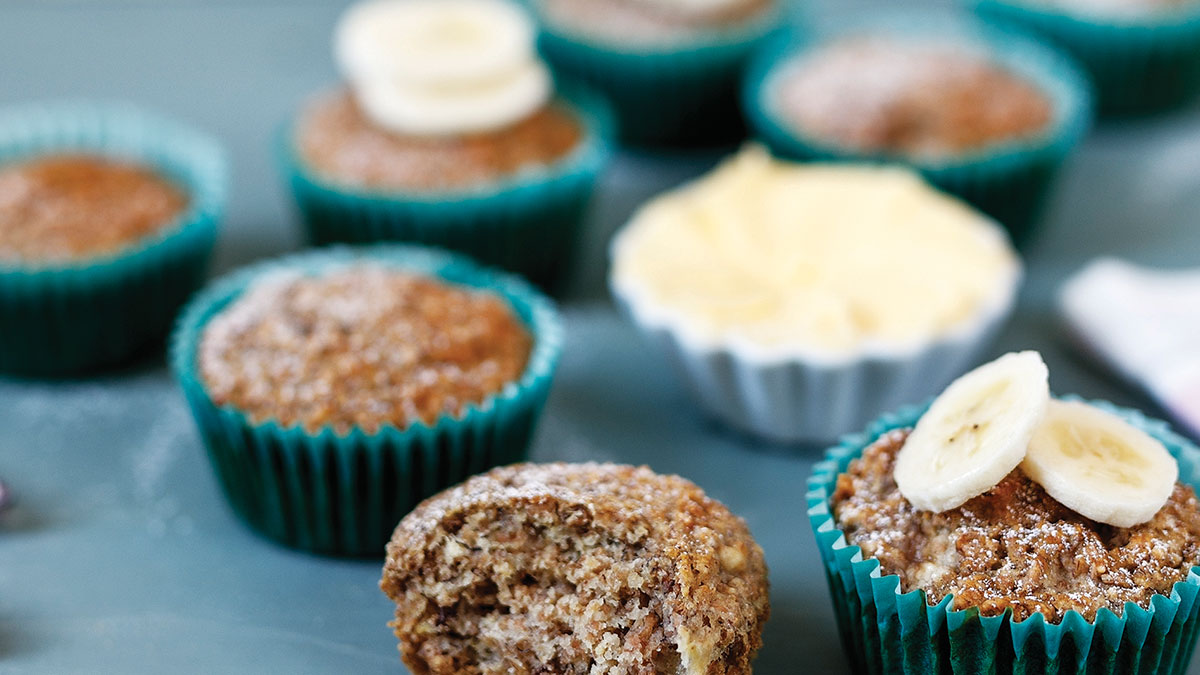 Makes 12 buns
230g wholemeal flour
1½ tsp baking powder
½ tsp bicarbonate of soda
½ tsp salt
2 large ripe bananas
1 tbsp coconut oil, melted
2 tsp vanilla extract
50g honey
200ml unsweetened almond milk
Icing sugar, to dust
Preheat the oven to 180˚C/160˚C fan/gas mark 4 and line a 12-cup muffin tin with paper liners.
Whisk together the flour, baking powder, bicarbonate of soda and salt in a medium bowl.
In a separate bowl, mash the banana with the back of a fork. Whisk in the coconut oil, vanilla and honey.
Alternate stirring in the flour mixture with the almond milk until incorporated.
Divide the batter between the muffin cups and bake for 17-20 minutes or until a skewer inserted into the centre of one bun comes out clean. Leave to cool in the tin for a few minutes, then transfer to a wire rack to cool completely.
Dust with icing sugar to serve.
Keep the leftover buns for up to four days in the fridge in an airtight container.
Per Serving: 115 kcals, 1.8g fat (1g saturated), 23.2g carbs, 7.9g sugars, 2.6g protein, 2.5g fibre, 0.113g sodium
Now you've got some healthy school lunches sorted, have a look at our seven ways to get veg into your kid's diet.

We understand that this time of year has your mind is buzzing with to-do lists, helping with homework, school drop-offs and pick-ups. Let us take one thing off your plate – protecting your busy home. Buy home insurance online and get 15% off. Get your quote today.1
We encourage our customers, where possible, to make use of our online options to access any help you need. Home insurance, car insurance and travel insurance can all be purchased online. MyAviva is an online self-service portal available to all our existing home and car insurance customers. If you have a query you can reach us via our contact forms here.