We're not known to get much sun here in Ireland, but when we do, we certainly take advantage! Windows are thrown open, BBQs are out, and gardening gloves are dusted off.  If growing your own vegetables has been on your to-do list, now's the time to get planting. You don't need lots of space, a greenhouse, or years of experience to grow your own vegetables—we've got some of the basic tips and steps you need to get started.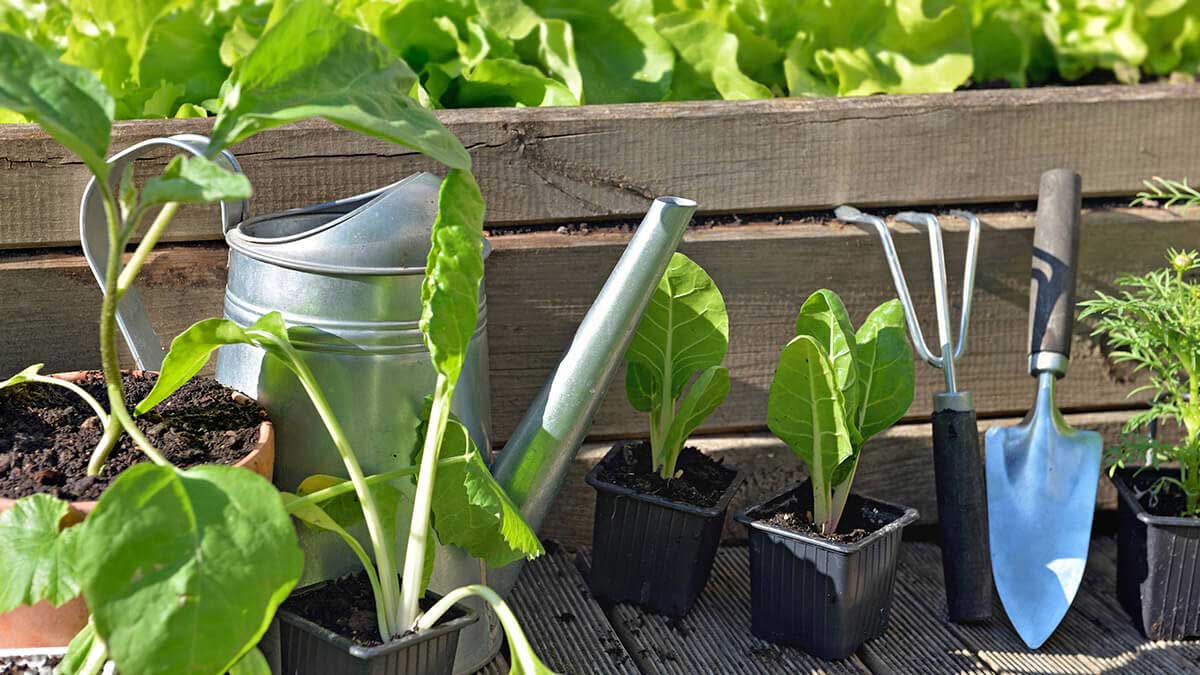 Find your space
The first step is to pick an area that receives a lot of sunlight, like a south-facing windowsill, balcony or patch in your garden that isn't fully shaded by trees, other plants, or high walls. You can work with whatever space you have available—just give each vegetable a bit of space to grow in the soil around it.
Essential tools
The tools you'll need to get started:
A hand trowel
Pruning scissors 
A shovel (if dealing with a larger vegetable patch) 
Watering can
Gardening gloves
Good quality soil
Seeds or plug plants—plug plants are best if you're a complete beginner, as they have already started to grow in a controlled environment before you purchase them, and so have more chance of reaching their full potential.
Choose your vegetables
Once you have located your space, decide what you want to plant. Tomatoes, radish and dwarf beans are good choices for beginners.  The season should also influence what you decide to grow. In the summer for instance, things like tomatoes, radish, parsnips, lettuce, beetroot, and carrots grow well.
Select your planter
Next, you'll need to decide what you're going to grow your veggies in. There are lots of choices, varying in price—lower price range options include hanging baskets, grow bags or even buckets you already have lying around!
If you're looking to invest in your garden, creating a raised bed will allow you to grow a larger range of vegetables.
Picking a soil
You need to use soil that is healthy and full of the right nutrients for your vegetables to flourish. If the soil in your garden is dry, sandy or pebbly you should purchase soil from a garden centre or online. Most hardware stores and garden centres offer online delivery, so you don't have to venture out for your products.
If you have a compost pile, mixing this in with healthy soil is a great choice for your veggies because it gives them a helping hand to grow strong and resilient. If you've planted your vegetables and feel they might need some extra care, you can buy a natural plant feed to boost their growth.
Caring for your vegetables
Every vegetable will require different levels of care, so it is best to research online to see what each specific plant needs. The rule of thumb is to make sure the soil is never too dry or too wet. This can be tested by placing your finger an inch into the soil, or a gardening tool for bigger vegetable beds. Place your finger or gardening tool to the bottom of the soil and pull it back out—if there is no soil stuck to your finger or gardening tool, more water is needed. If there's bits of damp soil, there's good moisture. If there's muddy residue, there's too much water present.
Top tip: If you're experiencing problems with insects tucking into your vegetables before you, copper tape is a great way to discourage unwanted guests!
If a life size vegetable patch seems a leap too far, why not start with something a little smaller like a DIY herb wall.
If you're protective of your garden, you can add garden cover to your Aviva home insurance policy any time. Buy home insurance online and get 15% off. Get your quote today.1
We encourage our customers, where possible, to make use of our online options to access any help you need.  If you have a query you can reach us via our contact forms here.
MyAviva is an online self-service portal available to all our home and car insurance customers.