We all want to make big savings without making big sacrifices. The good news? We've figured out how you can do this just by cutting out some of the frills and waste. Getting back to basics can save you money without much effort.
Our guide will not only help build your savings, it'll help the environment too.
Recycling
Minimalist wardrobe
If your wardrobe is cluttered with clothes you haven't worn for more than a year it's time to donate them to a charity shop that could use them, or you can sell them online. We've got lots more tips to decluttering your home if you fancy having a read.
Buy a reusable bottle
You can refill your reusable water bottle for free in over 850 locations around Ireland now, so you have no excuse! This will stop you spending money buying water as well as cutting down on plastic. Take a look at the interactive map of where you can refill.
Grubs up
Each household in Ireland is responsible for one tonne of food waste every year.1 Cut down on waste by using leftover vegetables for soups, leftover meat and bones for a broth or gravy, old bananas for banana bread, berries for jam and bread for croutons. 
For any leftovers you can't re-use, be sure to use your brown food bin. You can also give any washed pasta and rices, eggs and egg shells, vegetables, pet food, fat trimmings, cheese and breads to the wild birds around your home.
Energy saving
Dry your clothes by the fire
A good way of saving energy in your home is by drying clothes naturally rather than in the tumble dryer. Depending on the dryer you have, you could be spending over €100 a year if you dry just three loads of clothes a week.2
Now of course the Irish weather doesn't always allow drying outdoors, but clothes horses are a great way of drying clothes indoors when you already have the fire lighting or the heating on.
Squeaky clean
A shower generally uses 20% of the energy needed to fill a bath.3 Unless of course you take marathon showers! Why not play a favourite song of yours and aim to be out by the time the song is over? We have eight other energy saving ideas for your home.
Gold star food prep
Want some simple tips to get back to basics when cooking? When prepping vegetables for dinner use a basin or fill up your sink rather than leaving the tap run. Or instead of having four different hobs and your oven on the go, try a one-pot recipe and use only a fifth of the energy. We spoke to the experts at EasyFood for some ideas and they gave us two tasty one-pot recipes that will fill your home with mouth-watering smells!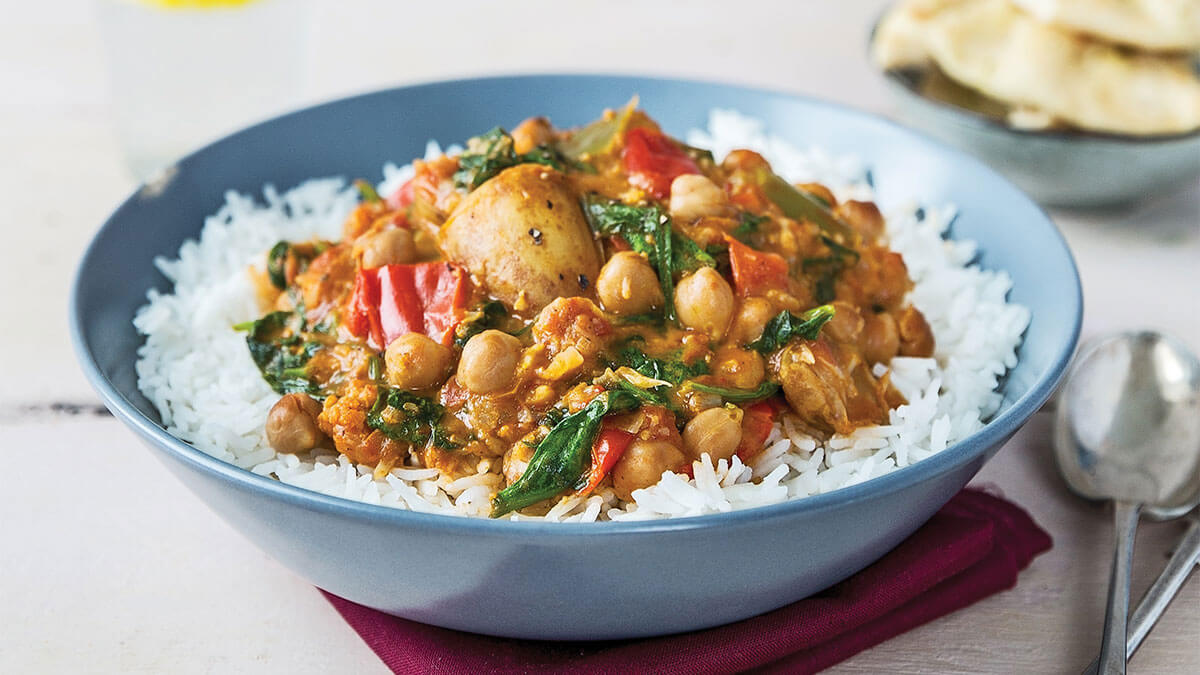 One-pot recipes
Curried vegetable and chickpea stew (vegetarian)
Serves 8-10
1 tsp olive oil
onion, chopped
potatoes, peeled and chopped
Salt and black pepper
1 tbsp curry powder
1 tbsp brown sugar
1 x 3cm piece of fresh ginger, peeled and grated
3 garlic cloves, crushed
500ml vegetable stock
2 x 400g tins of chickpeas, rinsed and drained
1 green and 1 red pepper, deseeded and chopped
1 medium head of cauliflower, chopped into bite-sized florets
2 x 400g tins of chopped tomatoes
250g baby spinach
250ml coconut milk
To serve (optional):
Couscous, rice or naan bread
Heat the oil in a large pan over a medium heat. Cook the onion with one teaspoon of salt for 5-6 minutes until soft. Add the potatoes and another pinch of salt and cook for 5-6 minutes until just translucent around the edges.
Stir in the curry powder, sugar, ginger and garlic and cook for 30 seconds. Add 60ml of stock and allow to bubble for 1-2 minutes, using a wooden spoon to scrape any sticky bits from the bottom of the pan.
Add the remaining vegetable stock along with the chickpeas, peppers, cauliflower and tinned tomatoes. Add some black pepper and stir to combine. The liquid should come about halfway up the sides of the bowl; add extra stock if necessary. Cover and slow cook for four hours on medium to high heat.
Stir in the spinach and coconut milk. Cover with the lid and cook for 10 minutes longer until heated through. Season to taste.
Serve with couscous, rice or naan bread.
Per serving: 255kcals, 9.2g fat (6.7g saturated), 38.6g carbs, 7.4g sugars, 8.1g protein, 8.3g fibre, 0.478g sodium
Traditional Irish stew
Serves 4
1kg lamb neck chops
3-4 bay leaves
4 medium onions, peeled and roughly sliced
800g peeled and sliced
1kg potatoes, peeled and cut into quarters
4 tbsp fresh parsley, chopped
Salt and pepper
To serve (optional):
Crusty Bread
Put the chops and bay leaves into a large casserole dish and cover with cold water. Bring to a simmer over a medium heat, then cover with a lid and cook on the stovetop (or in the oven at 160˚C/140˚C fan/325˚F/gas mark 3) for two hours, until the lamb is falling off the bones.
Remove the bones from the stew and discard.
Add the onion, carrots and potatoes. Bring to a simmer and cook for 40-45 minutes until the vegetables are tender, then season to taste. Serve with a sprinkling of chopped parsley.
Per serving: 881kcals, 52.8g fat (25g saturated), 67.4g carbs, 21.1g sugars, 37.9g protein, 6.4g fibre, 0.28g sodium
Now that you're on a roll, why not have a look at how to budget and save money? We know that protecting the environment is important to you and that the positive impact on your pocket is an added benefit. We also know that your home is important to you, so why not protect it with Aviva home insurance?