If you are planning on brightening your home with some decorations for Easter, we've got some suggestions to inspire you. These decorations are sure to impress your guests!
Create a homemade Easter wreath
Why not bring a splash of Easter cheer to your front door with a homemade Easter wreath. Head to your local craft shop for a basic wreath and decorate it using pastel-coloured artificial eggs and ribbons. You could also add fresh flowers, larch cones and some greenery to your creation for an extra touch.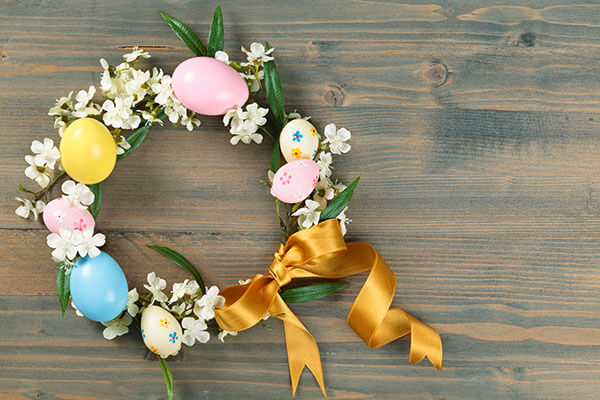 Decorate empty jars to hold flowers
Round up used food jars and decorate them with some lace, ribbon, jute twine or burlap. Alternatively, paint these jars in bright colours. They will make an eye-catching table centrepiece when you fill them with spring flowers such as daffodils or tulips.
Make an Easter tree
Gather some tree branches and spray paint them in silver or white. Prop the branches up in a small bucket using sand or stones to keep them in place. Adorn your tree with egg ornaments or homemade decorations.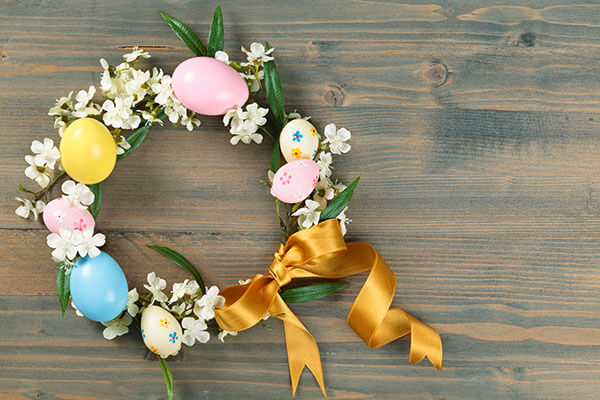 Design an Easter Egg garland
Brighten up your mantelpiece or a windowsill with a colourful garland that you can easily create in a matter of minutes. You'll need a pack of colourful eggs (plastic) and beading wire or twine (available in craft shops).
Cut the beading wire to the length you want.
String the plastic eggs onto the wire via the little holes at the bottom of the eggs.
Fasten and secure the garland at each end. It's now ready to hang!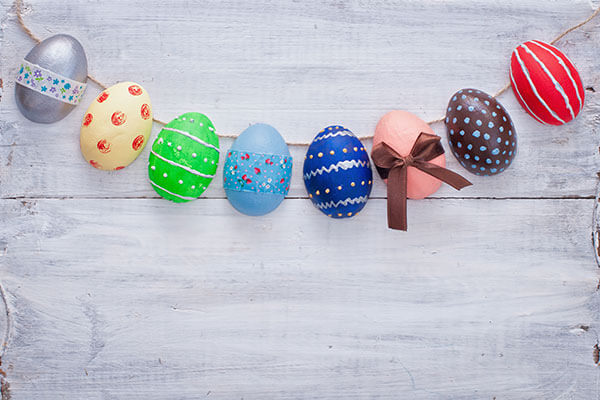 Create a display with vintage crockery
If you have some vintage crockery, Easter is the perfect time to create a pretty display using teacups and saucers. Fill a teacup or two with mini chocolate eggs in assorted colours, topping off the feature with some small flowers. This would make an ideal table centrepiece if you are having people around for dinner over Easter.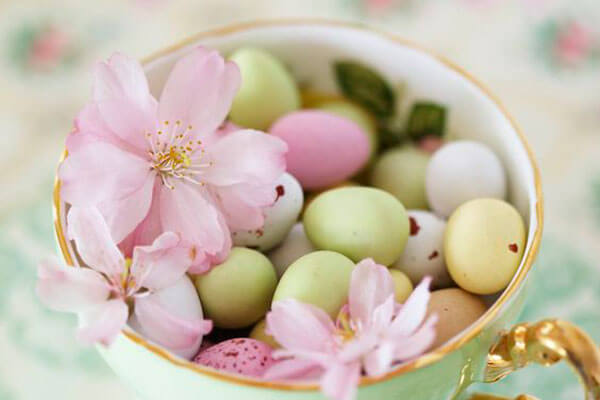 Make an Easter basket with daffodils
Bring a warm, yellow glow into your home by designing your own Easter basket with daffodils.
What you'll need:
Birch basket
Plastic liner
Soil
Miniature daffodils (buy them as small potted plants)
Moss
Mini chick decorations
Line the inside of the basket with plastic and fill it with soil to create an uneven look.
Remove the daffodils from their pots and replant in the soil.
Dot some moss around the daffodils to fill in any gaps.
Decorate your arrangement with some mini chick decorations.
Place the finished basket in a sunny position in your home and water regularly.
Get more information on Aviva home insurance.