Christmas is the season of giving and sharing, spending quality time with loved ones, and enjoying one too many festive treats! While it's a magical time of year, it's unfortunately a sad reality that the annual Christmas waste mountain has reached an all-time high.
To help you make some eco-friendly switches in the run up to the big day, sustainability expert and founder of reuzi, Pat Kane, has put together some top tips to help make your Christmas that bit greener…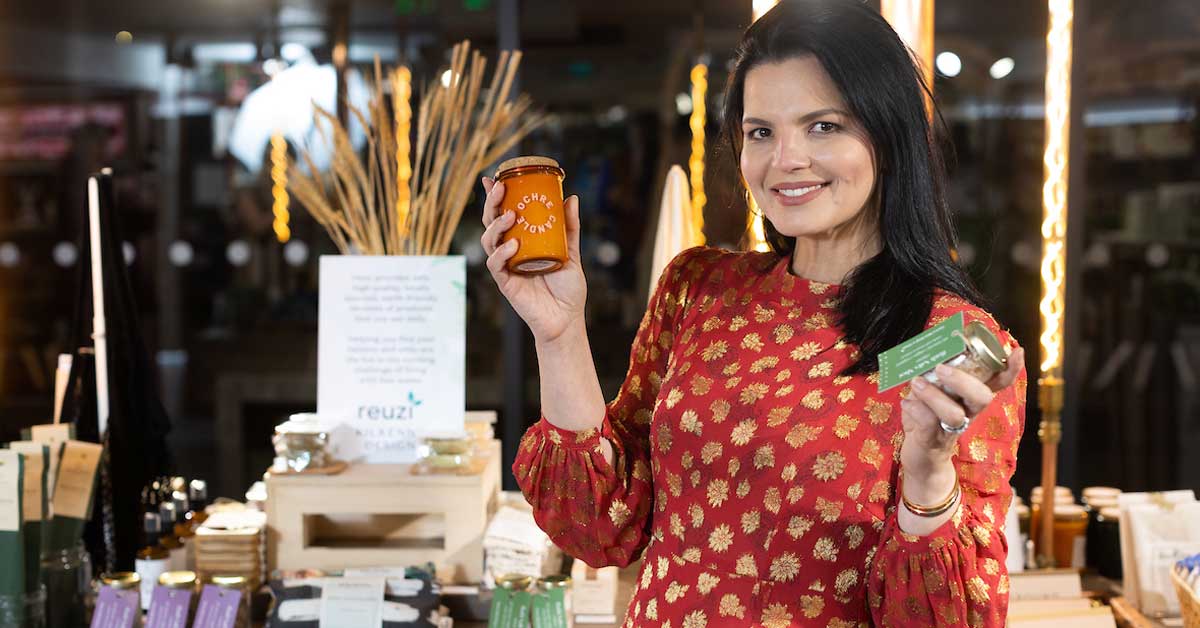 "When I think of Christmas, one very un-Christmassy word comes to mind: PLANNING!
My Christmas motto is 'Let's make a list and let's check it twice!'
"To me, it all begins with proper planning as my aim is to reduce waste – food, time, money... and of course, our Earth's precious and finite resources!"
Considerate gifting
The most important thing is to think before you buy. While sometimes it can be difficult to pick the perfect gift for the desired recipient, consider whether your choice of gift can either be re-purposed, passed on or recycled in the future.
If a gift is a 'must', please consider opting for one 'big present' versus tons of little bits that, let's face it, might not be useful or even wanted! Another way to go about it is to organise a Kris Kindle.
How about giving pre-loved a chance? You can often pick up lots of amazing finds in charity shops. You should also try and choose gifts which are packaged in fully recyclable material, rather than items which are wrapped in loads of unnecessary plastic.
Lastly, consider gifting experiences instead of physical presents. An experience is the most perfect gift for those who are exceptionally hard to buy for!
Go local
We're so lucky that in Ireland we're champions of supporting local, independent businesses. If you can, consider small businesses for your Christmas shopping needs. By shopping local, you're helping to support jobs and economic growth in the area. You're also more likely to pick something up which is unique and handpicked by experts who know their stuff.
Guaranteed Irish Gifts provide tailored local gift guides, whatever the mood, occasion, or recipient, so your gifting needs are covered all year round.
Wrap it
Get creative! Old magazines come in handy when wrapping gifts and let's not forget about brown kraft paper which can be decorated to your own taste and style – you can even get the kids to help on the decoration front! Forget sellotape and go for eco-friendly, compostable paper tape instead.
There are lots of easy tutorials online on how you can easily wrap your gifts in fully recyclable materials. Furoshiki is a traditional Japanese way of wrapping gifts without needing any tape, so why not give it a go?
The tree
While Christmas trees and decorations epitomise the season, they're unfortunately culprits for being extremely wasteful, which isn't good.
There's also the yearly tree dilemma of "Plastic v Real". Real trees are more eco-friendly than artificial ones, and the best option is to buy a potted Christmas tree, which is still alive. If you do purchase a real tree, make sure to compost it afterwards. Alternatively, why not decorate a houseplant? We love them throughout the year, so why not jazz them up during the festive season too?
The same goes for Christmas decorations. It's much better for the environment to reuse decorations, rather than throwing them away and repurchasing each year. If your decorations are looking a little worse for wear, upcycle them – you can transform anything with a little touch of creativity!
Signed, sealed, delivered
When it comes to cards, why not try e-cards? If you'd rather stick to the traditional physical Christmas card, be sure to check whether you have any unused cards lying around before you purchase a new set.
You'll often be surprised to find a stack of brand new cards at the back of your press which are simply waiting to be signed, sealed and delivered! And, please remember to recycle or reuse your cards where possible – they can often make lovely gift tags for next year's gifting season!
Food glorious food
Many of us buy way too much food than we can consume, between the amount of party platters and the big Christmas Day dinner itself. This unfortunately leads to perfectly good food being thrown away.
Planning is everything, so shop local and seasonal where possible, mind food portions, share leftovers and avoid disposable packaging.
Have a good think about how much food you'll actually need this Christmas. Rather than doing one massive shop and purchasing multiples of everything at once, try and split up your Christmas food shopping requirements across the weeks. This way you'll be more aware of how much you're actually buying and eating!
According to MyWaste, every Irish family throws away €700 of perfectly edible food every single year.1 Banish your food waste over the festive period by incorporating your leftovers and fridge remnants into simple meal ideas. You can find lots of clever recipes to get you started online.
Aviva has teamed up with FoodCloud to redistribute the equivalent of over 180,000 meals to community group partners across Ireland, as a little goes a long way. Many grocery stores and eateries are involved in waste-free campaigns and initiatives, so keep this in mind when spending your well-earned cash this holiday period.
Pat Kane is a sustainability strategist, a speaker, an author, and the founder of reuzi.
Now you know how to have a sustainable Christmas, check out some easy ways you can also cut down the cost of the big day. Make sure your home is always protected, whatever the season, with 15% off when you buy home insurance online. Get your quote today.2