Are you a first-time skier? Get ready to dust off the ski gear, the slopes are calling! We've got some fantastic European ski destinations right on our doorstep. In this post, we've listed our favourite ski destinations that are under a three-hour flight from Ireland. We also provide some useful information about total travel time, transport, and resort facilities.
The destinations are listed in order of total travel length from shortest to longest. This includes the flight journey from Dublin Airport and the car journey that's needed once you land on the other side.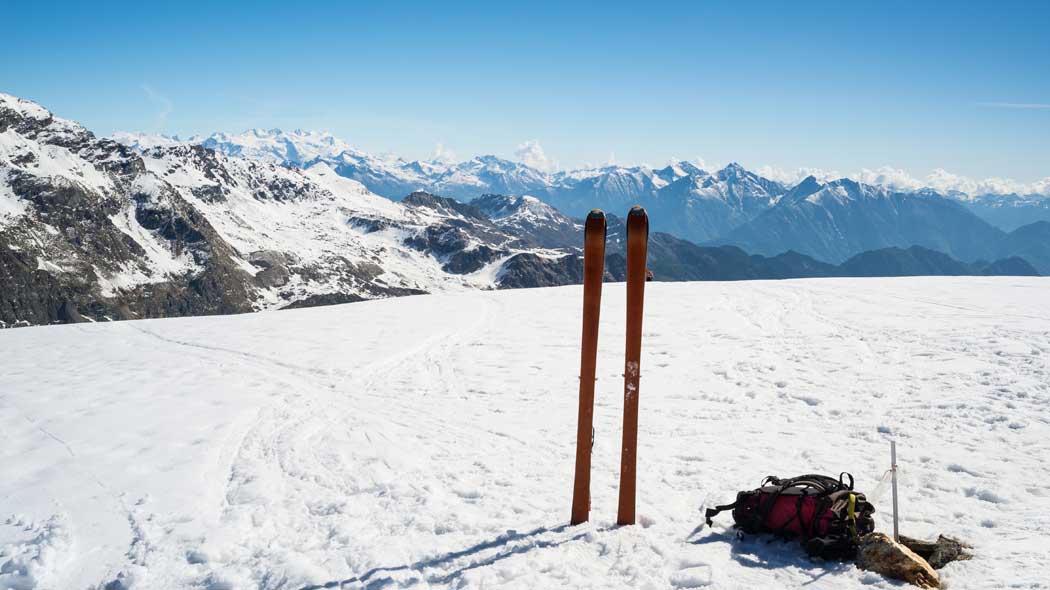 1. Chamonix, France
Total travel time: 3h 30min
Flight time: 2h 20min
Chamonix is one of the oldest ski resorts in France. To get there, you'll need to take a flight from Dublin to Geneva then take a short car drive from Geneva to Chamonix.
The area gathered worldwide attention when it became host to the first Winter Olympic games back in 1924. Today, it's divided into three separate ski resorts including Les Grands Montets, Brévent - Flégère and Domaine de Balme. The mountain area is suitable for expert skiers and beginners alike. Advanced skiers can enjoy some off-piste slopes by getting one of the highest cable cars in the world which connects the town to the Aiguille du Midi. Meanwhile, less experienced skiers will enjoy the Brévent - Flégère areas where slopes for all ski levels can be found.
2. Châtel, France
Total travel time: 3h 50min
Flight time: 2h 20min
Located in the Portes du Soleil area which stretches from Lake Geneva in Switzerland to Mont Blanc in France, to get to Châtel you can take a direct flight to Geneva and take an hour and a half car trip.
With thirteen resorts in total around Portes du Soleil, Châtel is one of the largest traditional ski towns in the area. If you wish to stay in the town, free ski buses run each day to bring you to the ski lifts. Whether you're an advanced skier or just a beginner, the terrain in the area is suitable for all sking abilities.
Although Châtel isn't a party destination, every Monday you get a chance to interact with the local community and ski instructors at a welcome event. l'Avalanche is also a popular venue and is known for showing big sporting events.
3. Courmayeur, Italy
Total travel time: 3h 50min
Flight time: 2h 20min
With an elevation of 1,224m above sea level, Courmayeur is a town situated at the foot of the southern side of Mont Blanc. Take a direct flight to Geneva then take a short car ride to Courmayeur.
Although not as big as other ski resorts on this list, it's a family-friendly destination with activities to suit all; from snowshoeing and skiing to snow biking and dog sledding. The surrounding scenery is enough to draw any ski enthusiast and the Skyway Monte Bianco cable car allows you to take in breathtaking views from the top of Europe.
The resort draws in a wide variety of clientele including avid skiers who want to test out the abundant off-piste terrain and sybarites who'd prefer to indulge in a spa day or a gourmet meal on a terrace overlooking the snow-filled mountains.
4. Garmisch-Partenkirchen, Germany
Total travel time: 4h
Flight time: 2h 35min
Although Germany isn't as well-known as a ski destination as France, Italy, Switzerland or Austria, Garmisch-Partenkirchen is worth including on this list. Voted one of the best ski resorts in the country, you can take a direct flight to Munich and travel for an hour and a half by car to reach here.
Garmisch-Partenkirchen, often referred to Ga-Pa for short, is an Alpine ski town situated in the Bavarian region and borders Austria. The town sits at the bottom of Zugspitze, which is Germany's highest mountain, and a cable car running to the summit allows visitors to enjoy 360-degree panoramic views of mountain peaks in four countries. Ga-Pa is also one of the ski destinations featured in the Four Hills Tournament and was a host of the 1936 Winter Olympics.
Skiers of all ski levels can find plenty of choices around the area but those with more experience can enjoy the challenge of Kandahar Hill. Made up of 60-meter wide jumps and up to 90 percent gradient, this course is extremely demanding.
5. Kitzbühel, Austria
Total travel time: 4h 15min
Flight time: 2h 35min
An Austrian favourite, Kitzbühel is just under two hours from Munich where you can catch a direct flight from Dublin. It is a well-known destination that's frequented by those of international high society.
The Streif downhill course is one of the most dangerous and challenging in the world. The course is infamous for its abundance of spectacular crashes and isn't recommended for the fainthearted or beginner skiers. Having said that, there's something for everyone at this resort, from off-piste courses to beginners' slopes and luxury hotels to family-run inns.
6. Courcheval, France
Total travel time: 4h 25min
Flight time: 2h 20min
Courcheval is the largest and most well-known area that forms part of the interlinked ski resorts known as Les Trois Vallées (The Three Valleys). With just over a total travel time of four hours from Dublin, you can catch a direct flight to Geneva then drive to Courcheval from there.
This European ski resort consists of four satellite villages: Courchevel, Courchevel Moriond, Courchevel Village, and Courchevel Le Praz. Courchevel, which is the highest resort, is popular among the elite and wealthy as a ski holiday destination. It's no wonder since the village has 11 luxury hotels each with its own 5-star rating. You'll also find Michelin-star restaurants and luxury fashion boutiques in the resort.
7. Innsbruck, Austria
Total travel time: 4h 35min
Flight time: 2h 35min
Innsbruck serves as an ideal place to hit the ski slopes due to its location between high mountains in the Alps. To get here, you can take a direct flight to Munich and then travel for two hours by car to Innsbruck.
There are various ski resorts to choose from around the Innsbruck area including Axamer Lizum, Patscherkofel, Seefeld and Nordkette. You can gain access to nine ski areas by purchasing the Olympia SkiWorld pass. The Innsbruck mountain area is well-known for holding the Winter Olympic Games twice, once in 1964 and then again in 1976. It is also host to the Four Hills Tournament, or German-Austrian Ski Jumping Week, each year.
What's great about Innbruck is that if you wish to take a break from skiing, you can spend some time exploring the picturesque city. It's the capital of Tyrol and the fifth-biggest city in Austria and is host to a range of museums, parks, buildings, and monuments.
8. Cortina d'Ampezzo, Italy
Total travel time: 4hr 40min
Flight time: 2h 40min
Renowned for its beautiful, natural landscape and heritage, Cortina d'Ampezzo's mountainous surrounding is perfect for your next adventure or family ski holiday. Situated in the heart of the Ampezzo valley near the Dolomites mountain range, this ski area is under five hours in total from Dublin.
Cortina d'Ampezzo is one of the best European ski resorts for beginners and is home to some of the best beginner slopes in the Dolomites. There's also a selection of ski schools with local instructors available to help you get started. The Faloria-Cristallo-Mietres ski area is suited to all ability levels, including beginners and children.
Although Cortina d'Ampezzo forms part of the 12 resorts of the Dolomiti Superski area spread over an area of about 3,000km2, Cortina itself boosts 115km of pistes with 34 ski lifts. At present, the ski resort is preparing to host the 2026 Winter Olympics and 2026 Winter Paralympics.
9. Val d'Isere, France
Total travel time: 5h 20min
Flight time: 2h 20min
Just under five and a half hours from Ireland, Val d'Isere is one of the best European ski resorts for families. To get here, you'll need to take a flight from Dublin Airport to Geneva then travel another three hours from Geneva. Although it may seem like a hassle with kids, it will be worth the journey when you reach the other side.
Though expensive, it's a must-visit resort if you enjoy easy access to off-piste skiing and snowboarding. The nightlife and party scene of the après ski may be off-putting for those with children but there are plenty of places to stay that caters for families. Dog sledding, ice skating and tobogganing are some other activities that can be enjoyed by the whole family.
10. Zermatt, Switzerland
Total travel time: 6h 15min
Flight time: 2h 15min
Although the farthest away and the only Swiss ski resort on the list, Zermatt was made famous by British mountaineer Edward Whymper's summit of Matterhorn. To reach Zermatt, SWISS run direct flights from Dublin that get to Zurich in just over two hours. You'll then need to get other transport from there to Zermatt.
One big advantage of Zermatt is the high altitude that allows continuous skiing throughout the years even during the summer months. The jaw-dropping views of Matterhorn add to the ambiance of this village. Discover an experience with magnificent views with the Matterhorn Glacier Ride which carries a whopping 2,000 passengers an hour to Matterhorn Glacier Paradise.
Fun fact: Switzerland is well-known for its chocolate and the Matterhorn is featured on Toblerone bars.
Don't forget to take out travel insurance before your next ski holiday. The risk of accidents and injury is high when it comes to skiing so it's better to be safe than sorry.
At Aviva, we offer travel insurance with a range of options to choose from including single-trip insurance, annual multi-trip insurance or backpacker cover. You can also include winter sports cover as an optional extra.