Spectacular scenery, exhilarating activity, and the fun and games of the après-ski; there's no shortage of reasons you might fancy planning a ski holiday this winter. Thing is, the average Irish person isn't exactly born in snow boots – and so you have to act with caution when hitting the slopes.
A little preparation will go a long way to avoiding perils on the piste – and it's with that in mind that we've pulled together some skiing safety tips, along with some advice on what to keep in mind before you head off…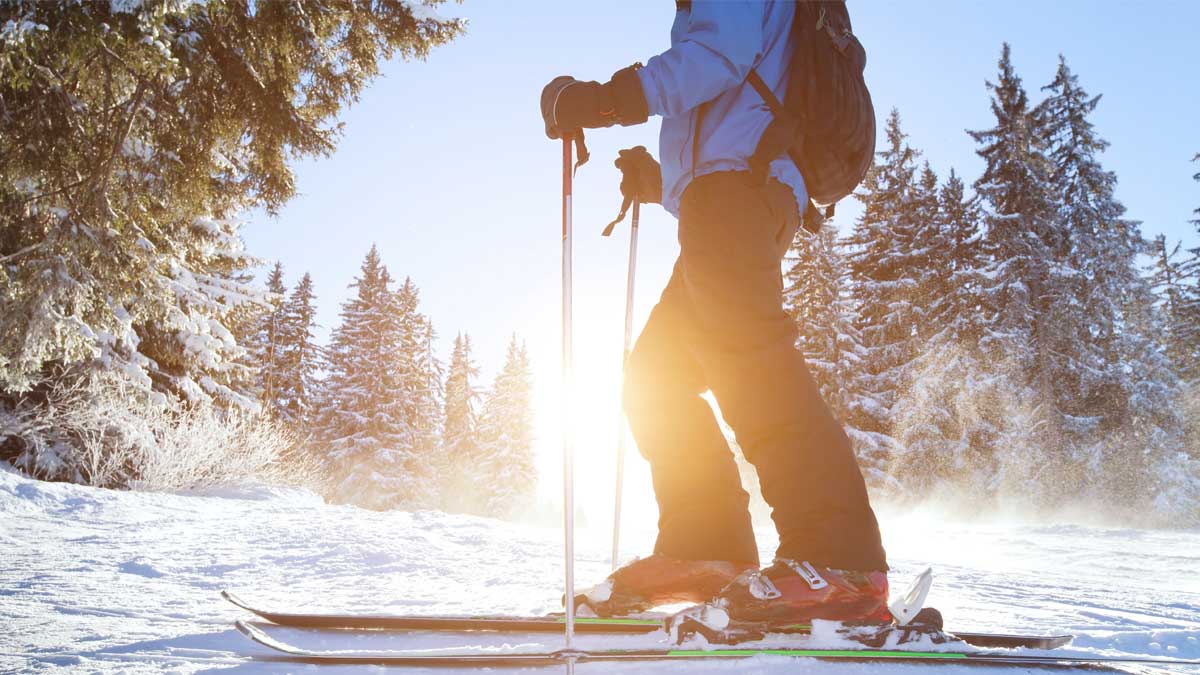 Don't hit the slopes without the right gear
Olympic ski jumpers need to worry about style points; you don't. When it comes to attire, don't cut corners or put style over substance; well-fitting boots, multiple layers of light, loose waterproof clothes, and purpose-built goggles and helmets are all essential ski safety gear that you can't go without. Equipment hire is available at just about every resort you'll encounter, where experienced staff are sure to point you in the right direction.
And while it might seem strange given the temperatures, don't forget your sunscreen. Altitude means the sun's rays are far stronger than usual – and nobody wants to come off the slope red-faced!
Know your limits
Whether it's eyeing up an overly challenging run or attempting to extend an afternoon an hour longer, many skiing accidents occur when you push things that bit too far. Being aware of your abilities and your fitness level is therefore vital to staying safe. Stick to trails that are within your capability, and be especially cautious towards the end of the day; if you're tired, it's important to know the run that's one too many...
Fuel up
While sampling local delicacies – and indulging in a glass of the local libation – is all part of the trip, do watch your intake before and during the day's activity. Skiing can be hard work, so make sure you're not out there on an empty stomach; similarly, make sure to drink plenty of water to ensure you're well hydrated.
As ever, it's wise to be alcohol-aware, too; a steaming cup of hot chocolate with peppermint schnapps is certainly a tantalising prospect, but if you're planning on heading out for another run it might be best to leave the après-ski until après your ski!
Know the rules on the slopes
A ski slope in high season can see significant traffic – and just like when you're driving, you'll need to know how to stop, merge, and yield to other skiers. If it's your first time at a resort, take the time to familiarise yourself with any and all the details before you get down to business, and listen out for any instructions or information the guides share while you're out there.
Stay on the right track
Trail markings are there for a reason – and it's not to stifle your fun. Going off-piste can be extremely hazardous and is explicitly banned by many resorts; even experienced skiers can find nasty surprises when they stray off course. Furthermore, getting into difficulty in an area without guides is extremely dangerous. If you simply can't resist the temptation, then make sure you're accompanied by a qualified guide and let the rest of your party know beforehand.
Keep in touch with your group
In an ideal world, your group would stick together – but in all the excitement of the day, that's far easier said than done. There's a simple solution too, though; charge your mobile before heading out, and make sure everyone is contactable. Aside from making it easier to meet up again, it's also the best way to make sure you can get help quickly if it's needed.
How to prepare for a safe skiing trip
There's also some things to consider before you head off, to make sure you're well prepared for the adventure ahead...
Get proper ski lessons
You may be unaware, but you can actually get your first taste of the slopes right here in Ireland, to get up to speed before jetting off. The Ski Club of Ireland in Kilternan, Co. Dublin has artificial runs that can help you get a grounding in the basics of what's waiting for you. If you're in any way anxious about your trip, it's a fine way to build confidence – and little ones will likely benefit from an idea of what's coming, too.
Choose your destination wisely
With so many possibilities, you could plan a lifetime of ski holidays and never see the same resort twice – so scout out the different options to find the one that's best for you. Travelling in a large group, for example, will be better in some resorts than others; similarly, check out the family-friendliness of the resort if you're travelling with kids. As a rule of thumb, first timers should stick to more established resorts, where there'll be plenty of instructors to get you going.
Sort out your insurance before you go
Travel insurance is a smart idea whenever you're heading away – but when it involves an activity like skiing, it's an absolute must. When you get your travel insurance with Aviva, you can add winter sports cover – so that if something does go wrong, you'll be looked after.
Now that you know our top tips to keep you safe on the slopes, all that's left to do is pack! Why not check out our space-saving packing hacks so you can fit in all your travel essentials.
Planning your next trip? Why not get a 20% discount on single-trip and multi-trip travel insurance through our travel partner Chubb.1