For most of us when we reach our 50's, we start getting a lot of our 'me' time back. This means there's increased freedom to travel, more often or for longer than you would have before.
Maybe you missed the chance to go backpacking in your 20's, or maybe you did it and revel in the thoughts of doing it all over again. Maybe you hadn't even considered such an idea until now! Before you talk yourself out of the possibility, let us walk you through the planning and organisation with some tips and ideas to show how simple it really is!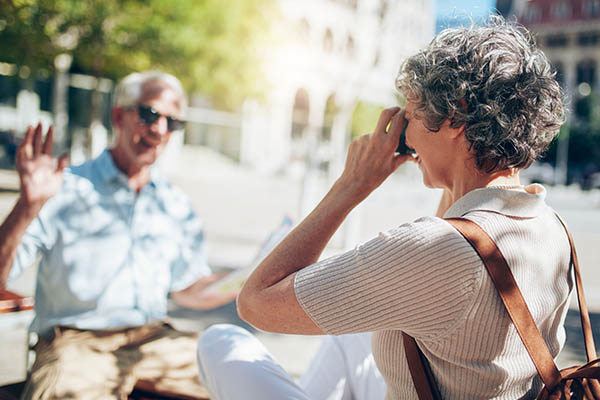 Make a budget
First of all, figure out how much money you have available or that you're willing to spend on a trip. Approximately how long are you hoping to travel for? This starting point will help you work out your budget once you decide where to actually travel.
If you feel overwhelmed by the planning of the trip, take the pressure off yourself by using a travel agent. There are endless resources to make the planning easier if you do it yourself however. We've listed some down below. 
Deciding where to go
Pinpoint any places you've always dreamed of visiting or re-visiting. Do some research on each to figure out how long the flight is and what it will cost – direct flights are more expensive but really worth it if manageable within your budget.
Keep in mind factors like how long you have to travel, the weather and seasons, safety, and what kind of experience you want (cities or beaches, adventurous or relaxing).
Get onto Instagram or Pinterest to see some photography of the place you have in mind. Read reviews on sites like Lonely Planet, TripAdvisor and blogs covering first hand experiences of the place.
Blogs such as this, and this, follow the experiences of people who decided to travel later in life when they had more freedom!
Travel
Skyscanner is a good resource when searching for flights. Simply enter your destination and it collates all available flights, comparing prices, flight times and durations.
Rome2Rio will tell you routes available by plane, train, bus, ferry and car rental all around the world.
Accommodation
Hostels are the most affordable type of accommodation you'll find and can be a good way to meet others and take part in tours, guided walks and other events.
Airbnb offers accommodation privately owned by hosts. This is an advantage because more often than not your host will provide information about the area in terms of public transport, places to eat and drink and fun things to do.
Hotels usually offer air coaches to and from an airport, which simplifies some of your planning. They also have the added benefit of breakfast! Trivago will compare hotel prices from different websites for you, so you can find the best option available.
Be sure to check there is air con and 24-hour security in any of the places you're thinking of staying!
Activities
One of the joys of travelling later in life is having the funds to really make the most of any country you visit! Instead of just trying out the free experiences in a place, you can take advantage of all the tours, helicopter rides, hot air balloon rides, restaurants, spas, markets and shopping you can find!
Choosing a backpack
When choosing a backpack make sure
It's made from water-resistant material
It has lockable zips, so you have a layer of security
It has an internal frame
There are padded shoulder straps, hip belts and back for comfort 
It has many compartments, so you can divide up the items in terms of most used and easy to access
A front-loading backpack means you can unzip the entire front of the bag to access your things rather than digging in the dark from the top!
A backpack sized between 50-60L should be sufficient for any kind of long trip. Any larger could be very cumbersome. 
The majority of the weight from your backpack should be carried on your hips, not on your shoulders.
Backpacking Top Tips:
Don't try to fit too much in. Give yourself at least five days between any travelling you do, or you'll wear yourself out.
Travel in style as much as possible! Train journeys are often shorter and more comfortable than bus journeys. It's certainly worth forking out extra for an internal flight rather than two bus journeys and a train ride!
Don't rigidly plan every step of your trip – it's a good idea to plan every stop, hotel and train journey for the first two weeks, but after this give yourself some leeway to change up your route in case you love a certain place more than you thought you would or vice versa.
Don't let foreign languages scare you off. Apps for your phone like Google Translate can help you understand and communicate to those who don't speak English.
Don't forget we offer Backpacker Cover to make sure your trip of a lifetime is protected! Click here for more details.