A New Year opens up the chance to take on a new challenge, so why not make 2018 the year you learn to drive? It's a step, which is often seen as a rite of passage into adulthood but can also seem quite daunting if you're not sure where to start. We've pulled together a quick guide to getting you on the road in 2018: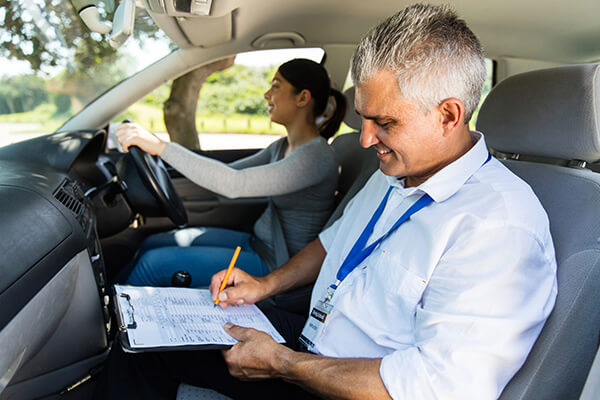 1. Take the Driver Theory Test
The first step to getting on the road is to apply for a Driver Theory Test. This test is a legal requirement for any person applying for their first learner permit in any vehicle category.
According to the Road Safety Authority, the aim of the Driver Theory Test is to ensure that drivers have a good knowledge of the Rules of the Road, good driving behaviour, awareness of hazards and risk perception.
The theory test is a computer-based assessment which is completed at your nearest test centre. There are over 40 test centres around the country.
To apply for a Driver Theory Test, or to locate your nearest test centre, visit theorytest.ie.
Prepare in advance for the Driver Theory Test
For test category B (car and work vehicle), the required study material is The Official Driver Theory Test Questions and Answers, Motorcycles, Cars and Work Vehicles. This revision material can either be purchased online, in bookshops or borrowed from your local library. You can also download a free Rules of the Road pdf here.
When you pass your Driver Theory Test, you will be given a certificate at the test centre. You will need this certificate when applying for your Learner Permit.
2. Get a Learner Permit
Before you can learn how to drive on public roads in Ireland, you need to have a Learner Permit. You must apply for a Learner Permit in person at your local National Driver Licence Centre (NDLS).
To apply for a first-time Learner Permit, you must present the following at the NDLS:
Evidence of PPSN
Driver Theory Test Certificate
NDLS Eyesight Report Form D502 (this form must be dated within 1 month) A registered optician or doctor must carry out this examination.
Proof of address
Photographic ID
Fee of €35 (Payment options include debit cards, credit cards, cash and cheques)
You can go to any NDLS centre without making an appointment, but to avoid queues, it is a good idea to book online in advance. To find your nearest NDLS centre, and to make an online booking, click here.
It can take between five to eight working days to receive your Learner Permit in the post.
3. Complete Essential Driver Training
In Ireland, it is compulsory for all learner drivers to undertake Essential Driver Training (EDT) before taking their driving test. Introduced by the Road Safety Authority (RSA) in 2011, the EDT aims to teach essential driving skills to all learner drivers. It involves a minimum of 12 lessons which must be given by an Approved Driving Instructor (ADI). The RSA advises that these one-hour EDT lessons should be spread out over six months.
Aviva driving instructors
All Aviva Driving School instructors are approved by the RSA. With our Aviva Driving School's Level One - Educate programme, learner drivers get a 13-lesson pack in addition to six
months' free accompanied driver cover on a parent's or guardian's existing Aviva private car insurance policy.
The RSA also recommends that a learner driver find a sponsor (an experienced driver) to supervise their driving practice outside of their EDT lessons. This person is usually a family member or parent – someone who will be patient and prepare young drivers to be safe, competent and responsible road users.
While the EDT lessons are the minimum number of lessons a learner driver is required to complete in Ireland, training does not finish with EDT. Learner drivers should continue to practice their driving with their sponsor outside of EDT and take additional driving lessons if they need to. This is to support them in passing the driving test and becoming a safer driver for life.
Aviva driving lessons
Aviva Driving School's Level 2 – Achieve programme is designed to support and prepare the learner driver for their driving test; this includes lane discipline, driver skills, vehicle manoeuvres, hazard management and safety. It also focuses on dealing with Driving Test pressure and how to develop self-analysis skills. Once a learner driver has successfully completed our Educate training programme they can move on to this programme which includes 6 driving lessons and an additional 3 months accompanied learner driver cover on a parent's or guardian's existing Aviva private car policy.
4. Do the Driving Test
Driving instructors will recommend when a learner driver is ready to apply for their driving test. All learner drivers need to have held their Learner Permit for at least six months on the day of the test.
According to RSA, expected wait times are at least 10 weeks for a driving test. You can apply for the test online. It is a good idea to check with your instructor the current waiting times in your area so that you can plan your lessons accordingly.
Learning to drive is an exciting stage in anyone's life and it takes plenty of practice to become a safe and confident driver. We're here to give you encouragement and advice to help prepare for every step of the process.
As the Driving School services are not financial services, they are not regulated by the Central Bank of Ireland.
Get 15% off when you buy Aviva car insurance online.1