If there's one thing Irish people enjoy, after talking about the weather of course, it's getting away from the rain and jetting off somewhere with plenty of sun. We tend to be very organised when travelling - passports, travel insurance details and accommodation bookings close to hand at all times, and an extra bottle of sun cream just in case! You can usually recognise fellow Irish people when travelling, and these are just some of the most commonly seen traits: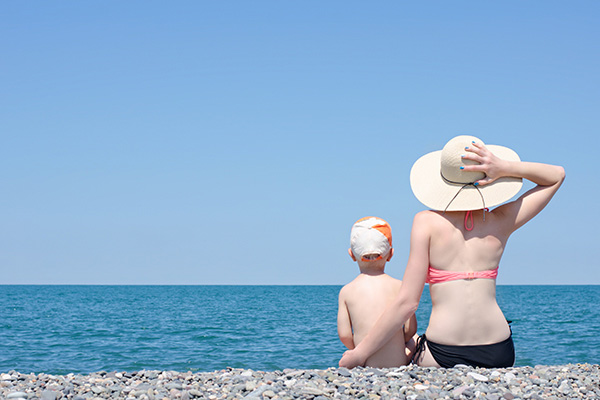 The person with multiple bags of Tayto:
This type of Irish traveller tends to have an array of Irish snacks protruding from their very large cases or backpacks. They have Skype downloaded to their phone and already have mammy on screen, asking "can you see me now?" despite having just said goodbye to their family at the gate.
This kind come equipped with Backpacker Travel Insurance (and their county jersey), because they'll be gone from home anywhere from 45 days to 13 months - hence the promise from the family to post monthly supplies of Irish goodies.
The family with 200 teabags:
This is one of the most common examples of Irish people on holiday. Mammy has made sure to pack enough tea bags to keep Barry's in business all summer, the first thing checked upon arrival to the hotel is whether there's a kettle in the room, followed immediately by "Please tell me the air-con is working!" There's also four bottles of factor 50 packed, and an all-out sun block just in case.
This trip requires Family Travel Insurance because the whole crew has come, even the begrudging 17-year-old who thinks they should have been left at home alone.
The group taking loads of selfies:
Often a girls' weekend away or a lads' holiday, this group is making the most noise in the airport, excitedly making plans for the second their flight lands. There's usually the hope that some 150ml creams and liquids will get through security if hidden well enough, and the subsequent disappointment when they don't - followed by a panic trip to Boots to re-stock!
The people on this trip have Single Trip Insurance, because one trip is enough when they plan to make the very most of those few days in Ibiza!
The solo traveller in formal-wear:
This Irish traveller will have their children on Skype while mammy or daddy tells them to give a big wave goodbye. Coffee is often a feature, as they prepare themselves for a trip that doesn't necessarily feel like a holiday. 
They come prepared with Business Travel Insurance because they know all too well that delays and cancellations happen, and after a long couple of days at business meetings, you just want to get home as smoothly as possible.
The couple with two kinds of everything:
These Irish holidaymakers are hopping to a few places on their trip, and because of this have gone somewhat overboard on the packing – light shoes in case it's warm, heavier in case it's cold, and a pair for walking shoes in case the scenery is lovely. Don't forget going out shoes for the night and a mixture of jeans and shorts, and 2 kinds of coat.
They're also sure to ring their family from every destination and check what the weather is like back home. This lot have Multi Trip Insurance because as seen above, they are prepared for every possibility in each place they visit.
The family that looks quite sporty:
This crew are wearing sportswear and have their bags packed with various winter clothing, including the reliable jackets that saw them through the 'Big Freeze' in 2010. They're ready to hit the slopes, and have plenty of sun cream packed, because even in snowy climates, Irish skin has a tough time against the sun.
This family have Winter Sports Travel Insurance because they plan on trying every activity a winter break can offer, from snowboarding to skiing to ice-skating.
Did any of the above sound familiar? Maybe you have a similar trip planned? For information on Aviva Travel Insurance to suit any kind of trip, you can click here or you can give us a call on 1800 940 515, Monday to Friday, 9am to 5pm.