With that cool, crisp feeling in the air, and a frosty look to everything around you, winter can be a lovely time of year. But with all the nice aspects of winter come those that you have to be wary of. Driving conditions deteriorate during the winter months, and while there is nothing you can do about this, there is plenty you can do to make sure that you and your car is prepared for the poorer road conditions: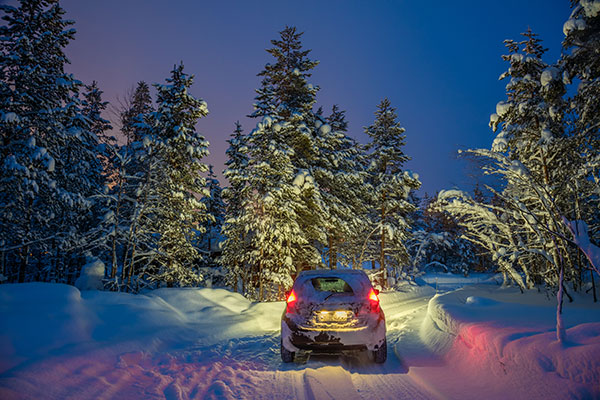 Servicing:
Make sure to have your car regularly serviced by a reputable and qualified mechanic, in accordance with your car manufacturer's guidelines.
Battery:
Colder weather means that your battery has to work harder to start your engine. Be sure to switch off your lights, wipers, radio, heater, remember to unplug your phone charger and any other accessories before switching off your engine.  This way, when you next start your car, it won't unnecessarily drain the battery for these items.
Fuel:
Ensuring your fuel tank is topped up will help to prevent condensation from forming. Condensation turns to water in your tank and fuel lines and when the temperature drops is at risk of freezing. We recommend keeping your tank at least half full at all times to lessen this risk and it also provides the maximum running time for your engine in case you get stuck.
Tyre pressure and depth:
As a rule of thumb, you are advised to never let your tyre tread go below 2mm – but during the winter months it is recommended to increase this to 3mm. This depth will dramatically improve both steering and braking in your car during these less favourable road conditions.  It is equally important not to over-inflate your tyres as this can cause them to slip across the road surface rather than grip it.
Lights and bulbs:
Check that all bulbs on your car are clean and working correctly, including indicators and brake and fog lights. Keep spare bulbs in your glove compartment in case current lights fail during a journey.
Windscreen wipers and fluid:
Windscreen wipers should be replaced about once a year, to maintain optimum performance. In very cold weather, don't add water to your screen wash concentrate, as it can freeze both in the washer nozzles and on your windscreen.
Oil levels:
In cold weather, engine oil thickens which makes it harder for your engine to start. Engine oil that has a lower viscosity (is thinner) makes it easier to start your engine in the cold weather, it also reduces fuel consumption. Check your manufacturer's manual to see what is recommended for your vehicle and ensure to top up your oil regularly.
Coolant:
Coolant, or antifreeze, works to control the temperature of the fluids and various engine parts in your car. This way it ensures your engine doesn't freeze or overheat. These days, most cars use long-life antifreeze, and it is of vital importance you don't mix these with other types of antifreeze as it can damage your engine.
Speak to your car dealer or mechanic if you are not sure which antifreeze is in your car. Coolant or antifreeze only cost a few euro to purchase and will save damage to your engine that will cost you hundreds, so make sure you don't neglect to buy some. A 50-50 mix of antifreeze and water in the cooling system is needed during winter. This gives maximum protection (down to -34° centigrade), and without it, you risk severe engine damage.
Door locks and seals:
Use WD-40 on car locks regularly during cold weather to prevent freezing. Polish or lubricant such as Vaseline will work to prevent the rubber seals of your car doors from freezing.
Check for windscreen damage:
Be sure to check for any damage or cracks caused by small stones flying onto your windscreen. These can be a distraction when driving and impair your vision.
Winter Driving Emergency toolkit:
Always carry an emergency kit in your car and make sure to include the following items:
High-vis vests
Reflective warning triangles
Cones
Ice scraper
Small shovel
Jump leads
Flashlight
AA Batteries
First-aid kit
Multi-tool and window breaker
Antifreeze
Cloth
High energy snacks
You can't ensure your car won't ever breakdown in the winter months so it's important to know what to do in this event. You can read more tips on how to handle a breakdown here. And you can rest assured that as an Aviva customer, our Breakdown Services are on hand 1800 44 88 88. Learn more about Aviva car insurance.
For car insurance, you're safe in the hands of Aviva.