Everyone has a good camping story from their childhood, and whether you're looking for a cost-effective family trip or a way to experience the great outdoors, packing the car with some tents and a picnic is a great way to make some family memories.
We've picked some of the best campsites in Ireland so you can get the pitch perfect camping experience! If you're bringing your furry little friend along for the journey, be sure to check out our article on how to have a safe road trip with your dog.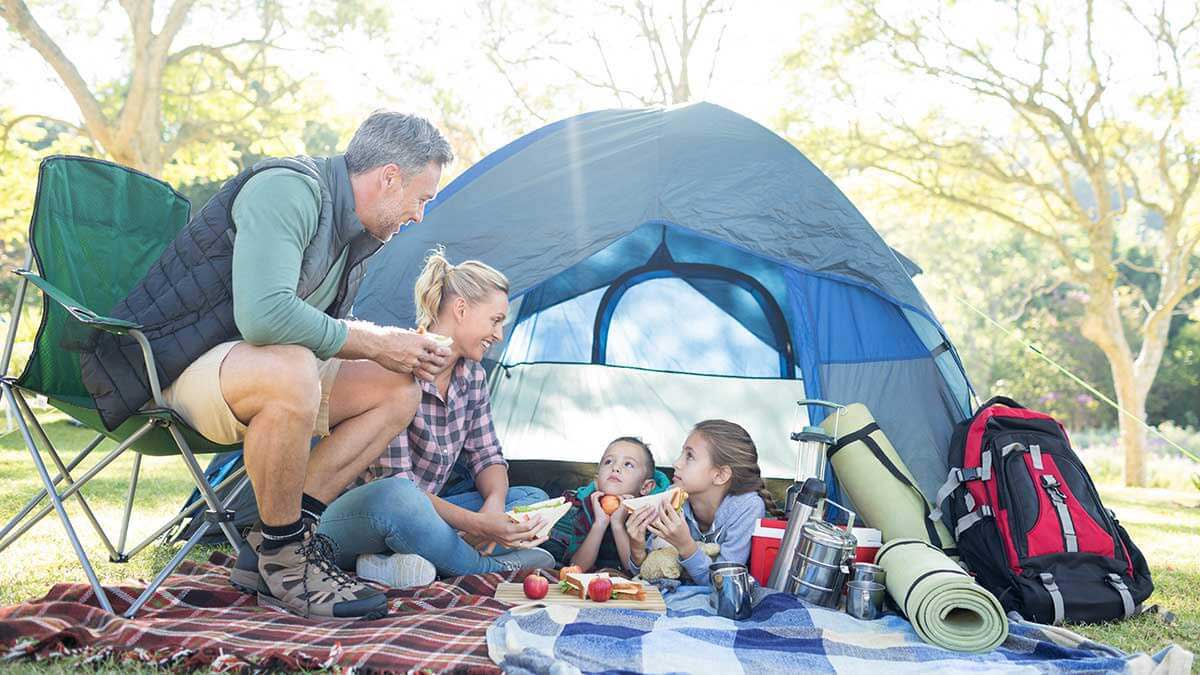 This campsite is situated in the scenic village of Laragh and is a short distance away from Wicklow's National Park, so make sure to pack hiking boots. Sprawling forests, mountain ranges and nature can be seen at every turn on this eco-friendly campsite, making it the perfect choice for the environmentally conscious camper.
And if history is more your thing, the medieval monastery at Glendalough is a short five-minute drive and makes for a great day trip. This campsite is less than an hour from Dublin so you can make a stop off in the capital for supplies if you need.
Not entirely sold on the idea of being at one with nature? Then glamping, or luxury camping is the solution! Portsalon Luxury Camping in Donegal offers secluded areas with yurts fully equipped with king sized beds, lockable doors and wood-burning stoves to keep you toasty during the night.
Located on the Fanad peninsula, you'll be greeted by stunning sea views the minute you step foot onto this campsite. There's plenty to do in the area, from picnicking on the beach, hill walking, soaking up one of Ireland's six national parks at Glenveagh National Park, or even trying to spot some dolphins by Fanad Lighthouse – perfect for the kids.
If you have yet to cross the Ring of Kerry, Killarney and Dingle off your Irish bucket list then this campsite is the best place to start. A friendly, family-focused park situated a quick drive away from these must-see destinations. Beech Grove organises day trips to each.
The site itself is stocked up with all the amenities you could need, including barbecues and outdoor dining areas for those warm evenings. But if cooking isn't your thing, don't worry - this site is walking distance from a range of local pubs and restaurants, giving you the best of both worlds.
A quirky and eco-friendly campsite located 40 minutes from the people's capital, Inch Hideaway truly is a hidden gem! The whimsical theme on the campsite gives it an air of magic that will bring out the inner child in any camper. The site itself is surrounded by beautiful greenery and flowers, with each yurt boasting its own private garden.
If you choose to stay here, you'll be a short walk away from sandy beaches, and half an hour's drive from the stunning seaside town of Cobh. There's a lot to do at the campsite if you're looking to expend energy, such as surfing, kayaking or paintballing. Equally, if you'd rather find your zen, you can try yoga, music groups and craft building.
If you've gotten the itch for road trips, we've picked the most scenic routes around Ireland that you can add to the list! Have a read of these ten 'any occasion' car necessities before you hit the road, just to make sure you're ready for anything a road trip can throw your way.
And if the unexpected does come your way, don't forget we offer 24/7 breakdown assistance as standard on our car insurance, simply call 1800 44 88 88.
Buy your Aviva car insurance online and we'll offer you a 15% discount. Get your quote today.1
We encourage our customers, where possible, to make use of our online options to access any help you need. If you have a query you can reach us via our contact forms. MyAviva is an online self-service portal available to all our home and car insurance customers.