As your baby continues to grow and develop, so too does their curiosity about the environment around them. As parents, it makes us anxious to think about the potential hazards they could come across while on their little adventures around the home.
Childproofing your home is the perfect way to help ease some of these worries. We've got a list of measures you can take in each room of your home to make sure your child stays out of harm's way.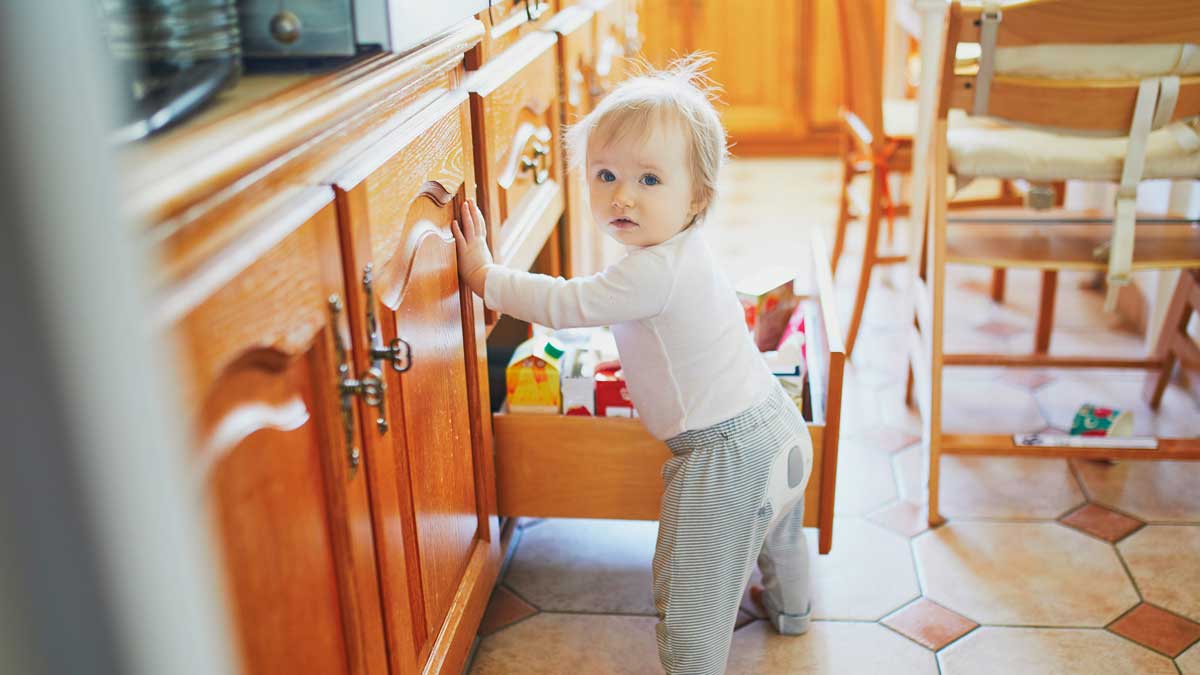 According to the HSE1, most injuries to children under the age of five happen at home, so make sure to carefully babyproof each room. The HSE recommends getting down on your hands and knees, to your baby's height, and moving around every room to see the potential dangers within reach of your child.
First port of call is to place childproofing guards on all windows in your home, even ground floor ones. Never place beds, cots, steps or any other furniture near to windows that can be opened fully.
Living Room
Cover the fireplace
If your home has a fireplace, consider investing in a baby gate that can be secured to the walls and still gives you easy access when you are lighting or cleaning it.
Hide electrical cords and cover sockets
Ensure that all electric cords are not within your child's reach and are put away securely. Purchase socket covers for all the sockets that are within reach of your child.
Edges and corners
Cover all edges and corners in your living room with foam or rubber protectors; think tables, chairs, TV stand, shelves or bookcases and any window ledges.
Securing all furniture
Furniture that is likely to topple over should be secured using L brackets or furniture anchors. Alternatively, stacking furniture to be bottom-heavy can also make them more secure.
Windows and glass doors
You should put stickers on long windows and glass doors at your child's height, to prevent them from walking or crawling into them.
Looking for ways to keep the kids entertained in the evenings? Why not teach them how to build a fort in the living room? Hours of fun!

Kitchen
When you're busy cooking in the kitchen, keep your child in their highchair or playpen so you can easily keep a close eye on them. When your child is roaming free however, here are some important tips:
Childproof cupboards and drawers
As curious go-getters, babies love exploring the inside of a closed cupboard, so be sure to put childproof locks on all cupboards, cabinet doors and drawers to keep little fingers out of reach!
Keep appliances locked or out of reach
Use child locks on dishwashers, washing machines, dryers and other appliances in the kitchen that children can easily climb into or play with. Mount your microwave somewhere high if possible; otherwise make sure your microwave sits back against the wall on your counter.
Keep cutlery out of reach
Cutlery should only be out of its drawer or stand if it's in your hand. Don't ever leave cutlery down if it's not in use.
Secure the  fridge
Safety latches on fridge doors are essential so your child doesn't catch their fingers or get their hands on anything inside. Don't put magnets on your fridge just in case they fall off, or get pulled off and become a choking hazard.
Kitchenware
When you're cooking, always keep handles of pots and pans turned inward. Avoid using tablecloths, or secure them with L brackets so your child can't pull it and everything on your table, onto themselves. 
This reminds us – children and their eating habits can be tricky. Here are seven ways to get veg into your kid's diet!

Hallway/staircase
Any desks in your hallways should have childproof locks or clasps. Keep low standing desks free of items that can be pulled down or reached – having a toddler usually requires us to become minimalists for a while! Cover all corners, edges and sockets here and throughout the rest of your home.
If you want to go the extra mile here to declutter your home, we've got the perfect guide.
Safety gates need to go at the top and bottom of your stairs. If you have any balconies upstairs, always keep the door locked and never leave items on your balcony that your toddler could climb onto such as flowers pots or chairs.
Bathrooms
Put a childproof lock on the door
The easiest way to keep your toddler safe from risks in the bathroom is by limiting their access to it with childproof locks.
Childproof your cupboards
Keep locks on your cabinets, whether they are low to the ground or above the sink or vanity.  Although it might not be possible for your child to reach it, things could accidentally fall out onto the floor.

In relation to this, keep toothpaste, shampoo bottles, soap, medicine and other toiletries out of your toddler's reach and secured by a lock.
Put childproof latches on toilet seats
Bedrooms
If you have older children, keep their toys separate from your baby's toys, and out of your baby's reach.
Keep childproof latches or locks on all your cupboards and dressers as with the rest of your home and be mindful of having chairs and chests near your bed that your child could use to climb up onto the bed.
Make sure any blinds that have cords are neatly pegged, clipped and tied up and away from reach.
Outside the home
Gardens can often be overlooked when it comes to childproofing your home, but what's outside your four walls can be very enticing for a curious toddler - especially if you have older kids playing out there too.
Here are ways you can childproof your garden:
Pets
If you have pets, regularly check for any little surprises they might have left in the garden…babies will try to eat almost anything they can get their hands on!

Speaking of our little furry friends, check out our video to make a DIY dog station to give them their own little space.
Water safety
It goes without saying if you have a pool in your garden be sure to always keep an eye on your children while they're in there. It's also important the pool is covered properly at the end of each use or the water is emptied if it's a paddling pool.
Keep the tools stored safely
Be careful to lock away each and every tool you might have used for garden or house maintenance and never leave them unattended when you're using them.
You're doing your best every day to make sure your children are safe at home. Let us do what we do best – protecting your home. Buy Aviva home insurance and get 15% off when you buy online. Get your quote today.2